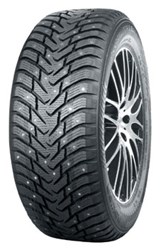 Lansing, Michigan (PRWEB) February 20, 2014
Tires by Web is proud to announce the new Nokian Hakkapeliitta 8 SUV tire, the most recent development in studded tire technology.
The fact that very few people enjoy driving in the snow and sleet could hardly be called new information, but the experts at Nokian Tyres never quit devising new ways to make traveling during winter more tolerable. As the proud inventors of the winter tire, Nokian professionals have an extensive history to build off of – a fact that could become intimidating to lesser minds. Thankfully, the expertise and genius that designed the snow tire has once again risen to the occasion and developed a more advanced model for SUVs everywhere. Just in time for the worst part of the cold season, the Nokian Hakkapeliitta 8 SUV studded tire has been unveiled to the public.
Improving on the original snow tire design, the Nokian Hakkapeliitta 8 SUV relies on military grade materials to provide extensive grip and control while driving over various slick and slushy surfaces. The most notable improvement upon testing is the improved durability of the sidewall, which has been completely optimized by the popular aerospace and defense material Aramid Fibers. This allows for improved stability when the vehicle is in operation, insuring a greater chance of reaching the desired destination without incident. Nokian engineers have truly honed in on the features necessary for sustainable safety and enhanced them for the use with sports utility vehicles everywhere.
By using advanced stud damping, the tire designers were able to greatly reduce the amount of road wear, insuring that they always adhere to legal requirements. This also allows for an increased number of total studs, having on average 50% more studs than its predecessors. In the size 235/65 R17, for example, the tire has 190 studs; over 80 per meter of rolling circumference. The placement of each stud has also been optimized by advanced computer technology. The studs are evenly placed across the entire surface of the tire, meaning that no stud is behind another, insuring the best possible grip under all conditions.
Additional safety for demanding weather is provided by the heavily serrated pattern on the rear edges of the tread blocks. As a large percentage of winter accidents occur during failed stops, the tread blocks have been designed to improve grip whenever braking. The serrated pattern of the Brake Boosters also increases the contact surface and improves grip, especially on snowy surfaces. These features have all been improved from previous models, making the Nokian Hakkapeliitta 8 SUV the leader in studded tire technology today.