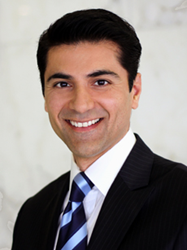 Helping patients overcome joint and sports injuries is my calling, and I look forward to helping many more patients in the future.
Beverly Hills, CA (PRWEB) February 28, 2014
Dr. Sonu Ahluwalia, board-certified orthopedic surgeon at La Peer Health Systems in Beverly Hills, has been named one of the country's Top Doctors by Castle Connolly Medical Lmtd., America's best source for identifying expert physicians in America medicine.
Dr. Ahluwalia has been recognized for his excellence in orthopedic sports injuries, including shoulder, knee, and hip surgeries. A physician is honored with a Top Doctor award through a combination of customer ratings, reviews, and peer-analyses.
"This award is a great honor," says Dr. Ahluwalia. "Patient care is my number one priority, so I am tremendously grateful that my work has been appreciated by my patients, and I will continue to provide them with the best treatment possible."
For more than two decades, Castle Connolly has been awarding America's best physicians with a Top Doctor Award. Winners of the award are nominated by fellow physicians, and the end goal is provide patients with knowledge of the very best doctors and physicians in their area.
"Helping patients overcome joint and sports injuries is my calling, and I look forward to helping many more patients in the future," says Dr. Ahluwalia.
Sonu Ahluwalia, M.D. was born in New Delhi and grew up in India. He attended medical school at Mahatma Gandhi Memorial Medical College in India before moving to the United States in 1993. He received his medical training in Boston and New York until 2003 when he went into private practice in Beverly Hills.
Dr. Ahluwalia is Board Certified in Orthopaedic Surgery and is a fellow of the American Association of Orthopaedic Surgeons. He is the Chief of Orthopedic Surgery at Cedars Sinai Medical Center and has privileges at Olympia Medical Center along with many ambulatory surgery centers, including La Peer. Additionally, Dr. Ahluwalia has been featured on several television programs and channels, including Fox 11 Los Angeles, Extra, The Today Show, Time: Health & Family, and Oxygen, for his expertise in orthopaedic surgery.
La Peer Health Systems is an outpatient surgery center in Beverly Hills, founded by doctors and focused on providing excellent patient care alongside the most cutting-edge medical treatments available. With 50 world-renowned physicians in 14 specialties, comprehensive medical treatment is offered that takes patients from consultation to diagnosis, treatment, surgery, and ultimately aftercare. The 14 medical departments include orthopedics & sports medicine, gastroenterology, head & neck surgery, colorectal & general surgery, podiatry, ophthalmology, pain management, plastics & reconstructive surgery, gynecology, spine surgery, interventional cardiology, bariatric surgery, thoracic surgery, and anesthesiology. Unlike large hospitals, La Peer's unique structure offers extremely personal care in a safe and controlled environment.
To learn more about La Peer Health Systems, visit http://www.lapeerhealth.com.