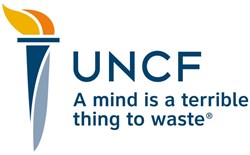 Washington, DC (PRWEB) February 20, 2014
UNCF (the United Negro College Fund), the nation's largest and most effective minority education organization, announced today a $500,000 grant from the Walmart Foundation to support UNCF's Institute for Capacity Building's (ICB) Fiscal and Strategic Technical Assistance Program (FASTAP). The grant awarded in December 2013 is part of a seven-year commitment of more than $2.2 million from the Walmart Foundation that focuses on financial and administrative management and capacity building of UNCF's 37 member historically black colleges and universities.
The grant will support the ICB Accreditation and Student Loan Debt Management Institute at the UNCF 2014 68th National Alumni Council/56th National Pre-Alumni Council Leadership Conference, held from February 12-16 in Memphis, TN. The Institute will engage up to 26 UNCF member institutions and involves two tracks that will focus on reaffirmation of accreditation standards and student loan cohort default rates.
In addition to the Institute, Walmart will continue to support the primary FASTAP interventions—Deep Dives and Reaffirmation of Accreditation Readiness Reviews—as well as Interim Five-Year Reaffirmation Readiness Reviews and High-Priority Technical Assistance, two new program initiatives introduced in this grant cycle. This expanded suite of services will enable UNCF to serve 16 member institutions, nine more than in the 2012 grant cycle.
"We are grateful to the Walmart Foundation for their strong investment in UNCF's Institute for Capacity Building and support for our 37 member institutions," said Michael L. Lomax, Ph.D., president and CEO, UNCF. "While only making up three percent of the country's colleges and universities, HBCUs graduate nearly 20 percent of African Americans who earn undergraduate degrees. By investing in their continuous improvement, the Walmart Foundation is committing to ensure that HBCUs are able to invest in better futures for the students who attend these outstanding institutions."
FASTAP was launched by UNCF member institution presidents in 1994 to help their organizations strengthen their fiscal management and stability, meet new accreditation standards and improve financial aid programs. Today, FASTAP is focused on ensuring the UNCF network is in compliance with accreditation standards and federal financial aid regulations as well assisting institutions in building capacity in key areas of its academic enterprise. FASTAP accomplishes this through direct financial support, technical assistance and professional development opportunities. By addressing these issues, FASTAP is key to ensuring UNCF member institutions are models of best practice in moving students to and through college.
"The FASTAP program has been helpful to my institution. Using grant funds, I was able to upgrade campus-wide computer technology and hire technical assistance as I prepare to finalize the last stage of reaffirmation reporting," said Dr. David L. Beckley, president, Rust College.
Since the beginning of the Walmart Foundation's support of ICB, 19 UNCF member HBCUs have received grants for Reaffirmation Readiness Reviews, focusing on improving financial operations, or Deep Dive Institutional Assessments, targeting multiple areas including financial operations, institutional effectiveness, enrollment management and advancement.
Tony Waller, Senior Director with Walmart reflected, "Our partnership with the UNCF has spanned several years, and through that time we have been able to help member schools remain viable, compelling and competitive choices for the growing number of African American and other students of color seeking a college education."
"UNCF is such a viable entity and important to our success. Not only the money, but also the assistance in getting our reaffirmation done, which will help us be a viable Institution," said Nathaniel Glover, Jr., president, Edward Waters College. "UNCF has been very supportive of HBCUs and not just in scholarships."
The Walmart Foundation's renewed commitment builds upon Walmart's 2007 grant of $700,000 to UNCF, which served as the catalyst for bringing FASTAP into the organization's Institute for Capacity Building to provide more targeted programming geared to the specific needs of UNCF member institutions. The UNCF Institute for Capacity Building is an institutional improvement initiative that helps member colleges and universities become stronger and more self-sustaining in areas that can make the difference between success and struggle such as curriculum and faculty enhancement, student recruitment and retention and fund-raising. In 2010 and 2012, the Walmart Foundation presented additional grants of $500,000 to UNCF to further enhance FASTAP through developing new and enhanced interventions, Reviews, and Deep Dives.
About UNCF
UNCF (United Negro College Fund) is the nation's largest and most effective minority education organization. To serve youth, the community and the nation, UNCF supports students' education and development through scholarships and other programs, strengthens its 37 member colleges and universities, and advocates for the importance of minority education and college readiness. UNCF institutions and other historically black colleges and universities are highly effective, awarding 20 percent of African American baccalaureate degrees. UNCF administers more than 400 programs, including scholarship, internship and fellowship, mentoring, summer enrichment, and curriculum and faculty development programs. Today, UNCF supports more than 60,000 students at over 900 colleges and universities.