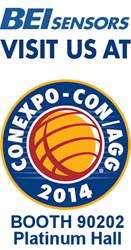 Goleta, CA (PRWEB) February 20, 2014
BEI Sensors is proud to announce its return as an exhibitor at the CONEXPO-CON/AGG show taking place in Las Vegas, Nevada from March 4 through March 8. As an innovator of position sensing products for the Off-Highway Market, BEI Sensors will have exciting products on display. The enhanced 9960 rotary non-contacting sensor provides extreme versatility and performance with 360° turn capability, numerous electrical angles and an IP69K rating. For encoders, BEI Sensors will be featuring our heavy duty models including Model H38 explosion proof, Model H40 shock proof, and Model DXM5 stainless steel encoder. BEI Sensors will also be highlighting its inclinometer product line ideal for off-highway applications. This range features internal temperature compensation, high resolution and sealing, and numerous output options such as analog, CANopen and SSI.
The complete range of products showcased will include Hall effect sensors, rotary and linear potentiometers, industrial encoders and inclinometers. These BEI Sensors products are built to provide a high degree of reliability and performance while withstanding the severe conditions present in demanding applications such as steering and wheel systems, steer-by-wire, gear sensing, pedal and throttle control, hand acceleration, valve and control logging, cabin controls and more. Whether exposed to dirt, extreme temperatures, or moisture, the rugged construction of BEI Sensors products ensures accurate and reliable operation day after day, year after year.
Visit BEI Sensors at Booth #90202 in the Platinum Hall to take a look at our products first hand and speak to our knowledgeable staff about how BEI Sensors can help to solve your position sensing needs.
Add us to your Show Planner.
________________________________________
About BEI Sensors
BEI Sensors specializes in speed and position sensors for extreme applications. With an extensive product offering including optical and magnetic encoders, Hall effect sensors, and potentiometers, BEI Sensors offers standard configurations to completely customized solutions. Through uncompromising quality, performance, and reliability, BEI Sensors upholds a standard of excellence in its products, customer service experience, and commitment to being a global leader in sensor technology.
BEI Sensors is a brand of Custom Sensors & Technologies (CST).
About Custom Sensors & Technologies (CST)
Custom Sensors & Technologies (CST) is a specialist in sensing, control and motion products.
Through its brands, BEI Kimco, BEI Sensors, BEI PSSC, Crouzet, Crydom, Kavlico, Newall and Systron Donner Inertial, CST offers customizable, reliable and efficient components for mission-critical systems in Aerospace & Defense, Transportation, Energy & Infrastructure, Medical, Food and Beverage and Building Equipment markets.
Focused on premium value offers and committed to excellence, CST, with 4,400 employees worldwide and sales of $604M US in 2012, is the dependable and adaptable partner for the most demanding customers.