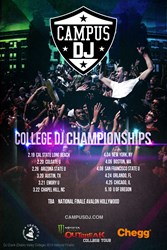 "Campus DJ has been so much more than a chance at a prize and a concert... All the great opportunities - both professionally and socially - that have come out of it." -Flaxo, 2013 National Champion.
Santa Monica, California (PRWEB) February 19, 2014
The second annual search to find the best college DJ at American universities and colleges is now underway at http://www.CampusDJ.com. The National Finale event will be held in Los Angeles this June at the historic Avalon Hollywood, where the winner will be crowned as the best college DJ in the country, with major prizing to be announced shortly from Campus DJ, Monster Energy, Chegg, GRAMMY U, Dirty Dutch, and Chipotle.
After a highly successful pilot season in 2013, Campus DJ returns this spring semester 2014, growing from promoting the competition at 18 campuses in 2013 to 40+ campuses across the country.
The 2014 Campus DJ events will be hosted by college-favorite hypeman Flula Borg, with guest headliners including: Cash Cash, The Chainsmokers, Paris & Simo, Bleaux, and more. Campus DJ is the first-ever competition exclusively designed for college DJs. Participants can sign up at no cost at http://www.CampusDJ.com for a chance to qualify for a regional competition or a National Wild Card slot. Winners will advance to the National Finale featuring industry leading judges and special-guest, college favorite headliners.
Additionally, for a second year in a row, the top Campus DJs will be spinning for a cause at the National Finale event, presented by Chegg, Music for Good, and Electronic Music Alliance's Play it FWD. Each national finalist DJ will be spinning on behalf of their selected charity to earn a cash grant for the cause. Last year's winner, Flaxo (Columbia U) won a cash grant on behalf of his selected Charity: 826 National. Growing up in San Francisco, CA he had attended the local chapter 826 Valencia, which provides free after-school tutoring and supports students with their writing skills.
Flaxo (Columbia University) who was awarded last year's grand prize MINI Cooper S Countryman and Live Nation Touring Package, is now a rising trap artist innovating the genre and receiving tremendous support in the industry. Flaxo adds "Campus DJ has been so much more than a chance at a prize and a concert. It's connected me to other passionate DJs and musicians who I keep in touch with, it's opened doors I never imagined even existed, and it's been a humbling chance to have validation in one of the most competitive and frenetic industries in entertainment. Believe me when I say that I actually couldn't have imagined upon entering all the great opportunities - both professionally and socially - that have come out of it."
Watch the Campus DJ 2013 Tour highlight video featuring Flaxo and the other finalists, at the National Finale at Avalon Hollywood in Los Angeles: http://www.youtube.com/watch?v=7uLBp0vzUoE
Campus DJ is a sister event to the national College Battle of the Bands, the popular collegiate-music competition that has produced notable finalists including: Mike Posner (Duke), Local Natives (Pepperdine), Rozzi Crane (USC) - the first artist signed to Adam Levine's 222 Records, The Lonely Biscuits (Belmont U) - who went on to win the first ever MTVu College Woodie award in 2013, The John King Band (UGA) - recently signed by Black River Entertainment Group, Raquel Rodriguez (USC), and many more. To date, more than $350,000 in prizes has been awarded by College Battle of the Bands.
The increasing number of DJ submissions to College Battle of the Bands and the overall rise of DJ and EDM culture in the college student community proves that the timing is perfect for the expanded Campus DJ competition. "It was time to create an event just for the DJs," Campus DJ co-founder Evan Shapiro says. "This is the only competition fueled exclusively by college DJs. We are lucky to have great sponsors and prizes to support our mission." Campus DJ will run annually each Spring Semester, with College Battle of the Bands now running in the Fall Semester.
Visit http://www.CampusDJ.com for registration, voting, complete rules and prizes.
Check out Season Two Promo Drop from Host Flula Borg: http://www.youtube.com/watch?v=Jyy2sSExNak
Campus DJ Spring 2014 tour dates include:
2/19 Cal State Long Beach
2/20 Colgate University
2/26 Arizona State University
3/20 Austin, TX
3/21 Emory University, Atlanta, GA
3/22 Chapel Hill, NC
4/04 New York, NY on Bounce Boat
4/06 Boston, MA
4/08 San Francisco State University
4/24 Orlando, FL
4/25 Chicago, IL
5/10 University of Oregon, Eugene, OR
National Finale in June at Avalon Hollywood, Los Angeles, CA - Date TBA
*DJs that do not qualify for a regional battle are still eligible for a Wild Card spot at the National Finale through website voting
Contacts:
Theory X PR - Lauren Worthington (Campus DJ) / lauren(at)theory-x(dot)com / 424-634-2784
Campus DJ - Kyle Banuelos / Kyle(at)campusdj(dot)com / 864-787-8422
***
ABOUT CAMPUS DJ
Campus DJ is the only nationwide search for the best college DJ. In partnership with Monster Energy, GRAMMY U, and Chegg, Campus DJ produces unique experiences featuring the best collegiate DJs and major headlining talent at Campuses across the country. Winners of Regional Battles taking place on campuses will advance to the National Finale at Avalon Hollywood in Los Angeles, CA. Campus DJ is a sister event to the national College Battle of the Bands, the popular collegiate-music competition, which returns for its 5th annual competition this Fall 2014. Major headlining acts to date have included: Avicii, T-Pain, Big Sean, Dev, Carnage, Chiddy Bang, 3LAU, Wale, MNDR, Big Boi of OutKast, and many more.
ABOUT GRAMMY U
GRAMMY U is a unique and fast-growing community of college students, primarily between the ages of 17 and 25, who are pursuing a career in the recording industry. The Recording Academy created GRAMMY U to help prepare college students for their careers in the music industry through networking, educational programs and performance opportunities. GRAMMY U is designed to enhance students' current academic curriculum with access to recording industry professionals to give an "out of classroom" perspective on the recording industry. To become a GRAMMY U member please click here.
ABOUT CHEGG
Chegg puts students first and is proud to have saved students and their families more than $450 million in 2013 alone. As the leading connected learning platform, Chegg's Student Hub makes higher education more affordable and more accessible, all while improving student outcomes. Chegg is a publicly-held company based in Santa Clara, California and trades on the NYSE under the symbol CHGG. For more information, visit http://www.chegg.com.
ABOUT MONSTER ENERGY OUTBREAK COLLEGE TOUR
Launched in February 2011 as a branded tour pairing emerging music artists with fan friendly ticket prices, the Monster Energy Outbreak Tour is produced by music/entrepreneurial firm Idol Roc Entertainment. The culturally relevant, forward thinking tour brand, which resonates with fans of multiple music genres, has brought forth tours and one-offs headlined by notable acts such as Macklemore & Ryan Lewis, Kendrick Lamar, Bullet for My Valentine, Asking Alexandria, 3LAU, Machine Gun Kelly, Carnage, and Wale to name a few, in 500 – 5K capacity venues throughout North America. Outbreak has proved to be a resounding success thus far, and is further positioned in 2014 to leave its mark on a wide array of music fans looking to discover the stars of tomorrow. http://www.outbreaktour.com