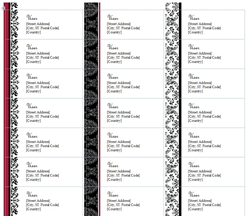 To meet the incredible demand, we have increased our inventory of Avery templates exponentially.
(PRWEB) February 20, 2014
Avery Dennison has been responsible for creating some of the most helpful and easy-to-use templates for decades. These Avery templates serve many useful purposes in both the home and office. They can also save users of the templates an incredible amount of time and money.
Now, an online leader in Excel templates and spreadsheets has added a new series of Avery templates to its impressive online collection. What's more, each of the new templates in the Avery online library is complimentary.
"Avery templates have been wildly popular and in high demand ever since we made them available on our site," said ExcelTemplates.net spokesperson Mary Flynn. "To meet this demand, we have increased our inventory of Avery templates exponentially to meet our visitor's needs."
According to Flynn, more than 100 new Avery templates have been added to the site with more being added every day.
Avery label templates, business card templates, name badge templates and ready index templates are just a small part of the new online collection. Templates for place cards, brochures, wine labels, greeting cards, postcards, CDs and raffle tickets are also available.
In addition to the new Avery templates, ExcelTemplates.net also carries hundreds of items that are compatible with Microsoft Excel, Word, Publisher and more. All of the templates featured on the site can be downloaded instantly and are available to visitors at no charge.
"Our collection of templates from Avery and Microsoft expands every day," said Flynn. "That's why we encourage visitors to check back often because they never know what they may find that may make their life just a little bit easier."
For the series of all new Avery templates, or for hundreds of other helpful templates, tools and spreadsheets, please visit ExcelTemplates.net today.