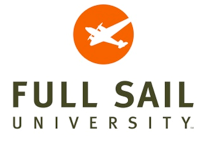 'Full Sail University is unique in that the campus has everything a major studio offers,' said Schneider. 'The facilities truly are state-of-the-art and I couldn't be happier with my choice in filming here.'
Winter Park, FL (PRWEB) February 20, 2014
Full Sail University is proud to announce actor, comedian, director, and screenwriter Rob Schneider, best known for his roles on SNL, Deuce Bigalow, The Waterboy, and Big Daddy, has selected Full Sail University as the host location and production headquarters for the filming of his new eight-episode independently-produced comedy series, Real Rob, beginning in March 2014.
"Full Sail University is unique in that the campus has everything a major studio offers," said Schneider. "The facilities truly are state-of-the-art and I couldn't be happier with my choice in filming here."
Real Rob, which is loosely based on the actor's life, will feature Schneider and his real-life spouse, writer-producer Patricia Azarcoya Schneider, as themselves in the half-hour-long, single camera situation comedy. The series was co-written by the couple alongside fellow comedian Jamie Lissow. Select students and graduates of Full Sail University will have the opportunity to gain hands-on experience in various roles behind the scenes during the show's production.
"On behalf of Full Sail University, we are proud to welcome Rob Schneider and his team to campus for the production of his latest project, Real Rob," said Full Sail University's Vice President of Academic Affairs, Dave Franko."One of the founding principles of our education has always been to provide our students with real-world industry experience. This collaboration will allow for tremendous learning opportunities within our university, while highlighting the greater Orlando film community."
"We are thrilled to be working with the production team of Real Rob," said Orlando Film Commissioner, Sheena Fowler. "It's a win-win for the production, the students and our experienced infrastructure in Orlando."
Schneider is scheduled to be an honored guest and speaker on February 20 as part of Full Sail University's 5th Annual Hall of Fame Week and will discuss the vision and anticipated production of his new series.
About Full Sail University:
Full Sail University is an award-winning educational leader for those pursuing careers in the entertainment and media industry. Founded in 1979, Full Sail has been recognized as one of the Top Five Game Degree Programs by Electronic Gaming Monthly, one of the Best Music Programs by Rolling Stone Magazine, and one of the Best Film Programs by UNleashed Magazine. Recently, Full Sail received the "21st Century Best Practices in Distance Learning Award" from the United States Distance Learning Association, was named the "School/College of the Year" by the Florida Association of Postsecondary Schools and Colleges, and was recognized as one of the Top 100 Social Media Colleges by Studentadvisor.com.
Full Sail offers on-campus and online Master's, Bachelor's, and Associate's degree programs in areas related to animation, art, business, education, graphic design, film, marketing, web development, music, recording arts, sports, and video games. Full Sail graduate credits include work on OSCAR®, Emmy®, GRAMMY®, ADDY®, MTV Video Music Award, and Spike VGX Video Game Award nominated and winning projects.
http://www.fullsail.edu
http://www.twitter.com/fullsail
http://www.facebook.com/fullsailuniversity
###