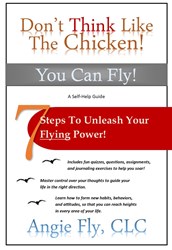 Change Thinking. Change Lives.
Jackson, MS (PRWEB) February 21, 2014
In a sense, one bad chicken spoils the bunch, but this isn't about poultry. This is about the mind and how crippling beliefs can inspire the subconscious to sabotage lives, how fear is an anchor for comfort zones, and how people can fail to see what is right in front of them. Don't Think Like The Chicken is an interactive, self-help guide that shows ways to recognize thought patterns in order to change destructive behaviors, attitudes, and habits that spill over into people's lives and communities.
Life Coach and Author, Angie Fly, believes that there is a system to crime, poverty, broken homes, drop-out rates, abuse, and it starts in the mind. By retraining negative thought patterns and creating new ones that, in turn, create positive reciprocity, cultivates hope, promotes self-esteem, and a new outlook on life in individuals, Angie believes that communities can improve, family structures can improve, and ultimately lives can improve!
In a tough economy where the fight for survival in poor communities is rampant, she believes that by reprogramming the pinnacle of the problem- the mind; it can change the negative, self-destructing ways that people think and repair the negative ways that they see themselves, it could at least set the stage for a better future.Communities change by changing negative thinking into positive thinking, I-can't thinking into I-can thinking, and chicken thinking into eagle thinking– because it is a fact that people become what they think. For More Information about Angie Fly and Don't Think Like The Chicken visit http://www.7StepsToFly.com. Available for purchase May 15, 2014.
Angie Fly is a Certified Life Coach and Author that lives in Jackson, MS. Also known as the flying coach, Angie Fly rose above abuse, poverty, and negative thinking to teach others how to transform grounding thought patterns and claim a life of fulfillment, success, and positive relationships.