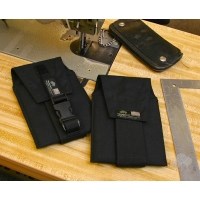 Nothing says Americana more than riding a motorcycle and we're excited to provide a niche solution to our bike riding customers
Phoenix, AZ (PRWEB) February 21, 2014
The breeze in your hair, the wind in your face, the freedom of riding a motorcycle just got better. Most "real" bikers enjoy carrying a "biker" style wallet to carry their bounty when mounting their two wheeled steeds, but one drawback to this timeless design remains—the constant re-pocketing after the wallet slips out. Enter Wilderness Tactical Products' solution: The new Biker Wallet Carrier.
The brain child of George Ganem of Night Rider Jewelry with the help of Wilderness founder, Ralph Holzhaus, the new intuitive design of the Biker Wallet Carrier virtually eliminates the need for the cumbersome chain previously required. Constructed of durable 1000d Cordura nylon, the Biker Wallet is made to attach to any belt via Wilderness' signature wide, wraparound belt loop, creating a strong, secure bond with the rider. The full flap is either a hood and loop closure or optional side-release buckle which provides even more security.
"Nothing says Americana more than riding a motorcycle and we're excited to provide a niche solution to our bike riding customers," explained Sam DeZonia, VP of Wilderness Tactical Products.
About Wilderness Tactical Products:
Wilderness Tactical Products, LLC was founded in 1981 to fill the needs of people who demanded durable, high-quality equipment. Their products have been tested from the icy mountain peaks of South America to the blistering Sonoran desert for more than 30 years and they have proven themselves time and again. Wilderness-branded products have consistently been favorites of serious outdoors people, mountain climbers, search and rescue, American Pistol Institute and Gunsite personnel, as well as armed military, intelligence, police, instruction and civilian professionals around the world. For additional information please call 1-800-775-5650 or visit http://www.TheWilderness.com.
Business contact:
Sam Dezonia
602-242-4945
Media contact:
Jason W. Jantzen
Phoenix Marketing Associates
http://www.phoenixmarketingassociates.com
602-282-0202