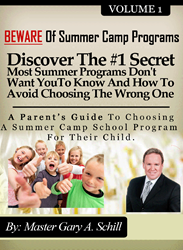 Cedar Park, TX (PRWEB) February 24, 2014
TIP #5 What are the Safety Protocols of Your Child's Summer Camp.
Master Schill of Peak Performance shares with parents the necessity of travel safety during summer camps. The state of Texas has guidelines on transporting children that are in day cares. Yet unlicensed operators are not bound by the same requirements. Day cares are not suppose too use 15 passenger vans, even though you still see many in operation. They should be transported in the proper bus, with an licensed driver.
At Peak Performance each of our vehicles are equipped with seat belts. Every camper and student are required to wear a belt during the operation of our vehicles. The vehicles are properly maintained and vehicles logs are kept in order to ensure proper upkeep and operation of vehicles that are responsible for safely transporting children in our program.
However vehicle safety is not the only concern parents need to be aware of. Parents need to understand how campers are accounted for while they are in the facility. What are the procedures for loading children onto buses, off-loading children during field trips and accountability procedures to ensure that no child is left on the bus or behind at a field trip location. There should also be procedures for making sure that every child makes if off the bus and back in the building after a completed field trip.
Another factor parents should ask their camp provider is what first aid training and CPR certifications the staff has. In addition, does the staff train on an evacuation plan or do they have a bad weather protocol.
According to Master, many camps feel as though it would never happen to them. It is important that every camp take the time to write training and security protocols.
So let's recap what to look for. Please check with your camps safety protocols. What type of transportation are they using, do they have seat belts? Do they have air-conditioned transportation? Are the drivers certified Professionals? How do they track the children when they away from camp?
Regardless of the length of the trip, the safety of your child should always be at the forefront of the camps mind. What pro-active safety steps is the camp using to ensure your child is safe at all times.
You also need to make sure that you keep up to date records with your camp in case of an emergency.
In a good summer camp, they will have very solid safety protocols. The children will know what they need to do to exit the building in an emergency and what is expected of them in and out of the building. At Peak performance we post the safety protocols so everyone knows what is going on and what are action plan is. So make sure that you child's summer camp has a solid routine. This will have a positive effect on their day.
Master Schill wrote a summer camp guide for parents outlining the top ten secrets most summer camp programs do not want you to know. The name of the book, "Warning, Discover the Number 1 Thing Most Summer Camp Programs do not want you to know."
Master Gary A. Schill is a leading authority on Child and Family development. For more than 39 years he has studied the Martial Arts. As the owner and chief instructor of Peak Performance Martial Arts, Master Schill runs one of the most successful Summer Camp and After School Programs in the country.
In addition, Master Schill is a 3 time best-selling author, his latest book "The Success Secret" was co-authored with Jack Canfield (Chicken Soup for the Soul co-author). Master Schill's has been featured on all of the major networks, ABC, NBC, CBS and FOX, as well as The USA Today.
For more information on this book and other summer camp tips, visit http://www.SummerCamp14.com.