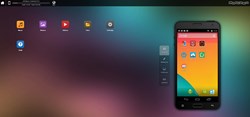 Seoul, Korea (PRWEB) February 21, 2014
Rsupport, the leading cloud-based remote solutions provider, unveils Mobizen, the app turning a smartphone into a multiple-screen supporting media hub, at Mobile World Congress (MWC) 2014 Hall 7, 7G61.
Enjoy Multimedia Content in Multiple Screens
Mobizen allows a user to play multimedia content from a smartphone on other multiple screens through a web browser without downloading. With the Mobizen app, users can access multimedia content (photo, music and video) saved in smartphone from any devices such as PC, tablet, smartphone or smart TV through the Mobizen website (http://www.mobizen.com).
Instantly Access Multimedia Files Saved on an Android Smartphone from a Mac
With Mobizen, a user can enjoy the content from a smartphone on any devices with no limitation. Since it is designed to work on Internet Explorer, Safari, Chrome and Firefox, Mobizen is compatible with any mobile OS. For instance, users can access music or video files saved on Android smartphone through Safari web browser, and instantly play them.
The Easiest Way to Set Up Your Own Home Hub and Personal Cloud
According to a research, the average number of devices per household, which connected to the Internet, is 5.7 in the United States. (Source by The NPD Group/Connected Intelligence, Connected Home) As connected device market is expanding, so is the number of customers who purchase home hub systems or use cloud services to enjoy their content on multiple devices and multi-screen.
Mobizen app provides the service, which has previously been provided by expensive, fancy hub devices or hard-to-reach cloud services only. Mobizen app on a smartphone can access any files in every connected device; it means Mobizn app will bring additional value to users' device.
"Mobizen is an app that allows users to instantly access the multimedia files saved on smartphones from any devices. We hope Mobizen helps every Android smartphone user enjoy the convenient features that iTunes and cloud service can offer," says Hyung-Soo Seo, CEO of Rsupport.
Mobizen app for Android will be available on Google Play (play.google.com). For more information, please visit http://www.mobizen.com and http://www.facebook.com/Mobizenglobal.
About Rsupport
Rsupport (http://www.rsupport.com) is an innovative leader in the remote solutions industry and the number one remote solutions provider in Asia. Rsupport continually strives to be the best in the world and offer services unparalleled to others.
Rsupport develops both remote support and remote access solutions for home and business. Rsupport was the first to develop and patent the web-icon connection method requiring just a couple clicks to initiate a session. Rsupport also developed one of the first web-based remote support solutions in the market that require only a web browser. Rsupport launched "Mobizen" the world's first android-based smartphone management application using a PC at Mobile World Congress 2012 and has since made a series of partnerships with various global companies, including Samsung Electronics, NTT Docomo, TCT Mobile, SK Telecom and LG Electronics.
With its team of dedicated engineers, RSUPPORT provides cost-effective and powerful remote solutions to more than 4000 organizations worldwide, including US department of Defense CPOL and NTT DATA in Japan.
Established in 2001, Rsupport is headquartered in Seoul, Korea, with branch offices in Tokyo, Beijing, and New Jersey City.
Features of Mobizen

Music
Access music files saved on your smartphone from PC
Video
Play, Download, or Upload video files saved on mobile device or PC
Files
Transfer files from smartphone to PC
Call Logs
Access, delete or edit call logs on your smartphone
Message
Access message history, manage group message separately or send messages
Contacts
Manage contacts on smartphone contacts from PC screen, send message to the listed numbers
Backups
Backup and restore personal files, contacts, message, photo, video, APK, etc
Settings
Change smartphone settings; Alarm or language
Contact:
Ms. Jihea Park
Rsupport
Dir: +82 (10)9227-2345
Email: prpark(at)rsupport(dot)com