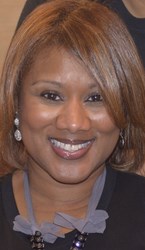 It seemed clear to us that she would be a great addition to the board.
Baltimore, MD (PRWEB) February 20, 2014
Audrey L. Johnson, National Sales and Services Manager for Gilbane Building Company, has been appointed to the National Women's Hall of Fame Board of Directors for a three-year term. In her role on the board she will lead the Institute of Museum and Library Service Museums for America Grant.
As project lead, Johnson will oversee implementation of the three-year grant which will showcase the influences of women who have paved the way to make unique and measureable contributions to America through their experiences and inspirations to others. The project will incorporate the development of educational materials to explore what made these women great through oral histories, multi-media exhibits at the Hall of Fame, and Hall's enhanced website. Ultimately, allowing the public a new level of access to the inductees and their stories.
"Her professional demeanor, through engagement with the Hall's member and guests and her understanding of the role that the Hall plays in telling women's stories was very apparent," said Beth Quillen Thomas, Co-President, National Women's hall of Fame. "It seemed clear to us that she would be a great addition to the board."
Johnson, who has been with Gilbane Building Company for more than 12 years, serves as the national presentation service manager. A graduate of Morgan State University, she holds a Bachelor of Science in Marketing and MPA in Marketing. Not only has she been active in several professional organizations, including Past President for SMPS Washington, DC Chapter, she is a classically trained singer.
About Gilbane, Inc.
Gilbane provides a full slate of construction and facilities-related services—from pre-construction planning and integrated consulting capabilities, to comprehensive construction management, close-out and facility management services—for clients across various markets. Founded in 1873 and still a privately-held, family-run company, Gilbane has more than 50 offices in various locations around the world. Since the 1970s, Gilbane has played a major role in the development and expansion of facilities throughout the Mid-Atlantic region, including such projects as the National World War II Memorial, University of Maryland's Comcast Center Arena, the National Air & Space Museum, Towson University's Center for the Arts, and the Baltimore Convention Center, while working with diverse clients including George Washington University, Virginia Community College System, and the Department of Justice. For more information visit http://www.gilbaneco.com.
About the National Women's Hall of Fame
The National Women's Hall of Fame (NWHF) is the nation's oldest membership organization dedicated to recognizing and celebrating the achievements of great American women. It was created in 1969 in Seneca Falls, the birthplace of the American Women's Rights Movement by a group of local women and men who believe that the contributions of American women deserved a permanent home in the small village where the fight for women's rights began. The NWHF, a 501(c)(3), not-for-profit organization, is located in the heart of downtown Seneca Falls, NY. For more information about the National Women's Hall of Fame, please visit: http://www.greatwomen.org.
####