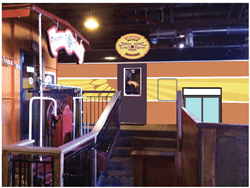 Creating loving food and places for community to gather is my vision. This new Express train car location is fun and allows people to have healthy food on the go. - Lydia Kindheart
Sebastopol, CA (PRWEB) February 20, 2014
Lydia's Express, the latest dining creation from Lydia Kindheart, is now open in historic Gravenstein Station across from The Barlow in Sebastopol. Lydia's Express will serve a full vegan, gluten-free, organic menu, Lydia's Lovin' Foods and Lydia's Organics to-go, as well as local organic gluten-free beers and wines.
Opening Lydia's Express follows on the 2nd anniversary celebration of The Sunflower Center, Lydia's restaurant and community center in Petaluma. This expansion represents another step in fulfilling her mission of making nourishing vegan, organic, raw and gluten-free foods that cultivate a healthy and joyful life accessible to all people.
"Continuing to create loving food and places for the community to gather is my vision. This new express concept and Sebastopol train car location is exciting, as it will allow us to reach more people in a fun and beautiful way. We are also happy to be providing healthy options for people on the go" shares founder Lydia Kindheart.
Located in the vintage Pullman railroad car in historic Gravenstein Station, Lydia's Express will offer customers an option to gather and dine in the ambience of a railroad dining car, inside the Station or on an outdoor patio enjoying such favorites as award winning Lovin' Burgers, Crepes or Salads. For those on the go – a double door refrigerator provides Lydia's Lovin' Foods ready-made choices such as her raw green soup, kale salad or award winning cheesecakes. This will be the first Lydia's location to offer beer and wine.
Lydia's Express will be open from 10:00am to 9:00pm daily at 6761 #700 Sebastopol Avenue, Sebastopol, California. Phone: 707.861.9431
About Lydia Kindheart & Lydia's Express
Through her brands of food, festival and private catering, restaurants, and community work, Lydia became a forerunner in the Organic, Vegan, and Raw food industries. In continuing to fulfill her vision of creating community-gathering space to share food, knowledge and creativity. Lydia opened the Sunflower Center, a restaurant, community center, and sanctuary to many, in Petaluma, California in December 2011. Lydia is successfully living her dreams of offering conscious food as a powerful and personal medium for reconnecting people and the planet.
Lydia's Organics
Internationally distributed product line comprised of all organic, vegan, raw, gluten-free bars, crackers, cereals, kale chips and more.
Lydia's Lovin' Foods
Locally-delivered fresh entrees, spreads, desserts and raw soups that are available in select locations throughout the San Francisco Bay Area. You can find them at many festivals, fairs, and events as well.
The Sunflower Center
A cafe and community center located Petaluma, California that serves a full menu of gluten-free cooked and raw items. It is a great gathering space for sharing food, knowledge and creativity.