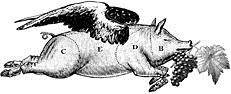 We couldn't think of a better partnership than with Chef Charlie Palmer and sponsoring his Pigs & Pinot weekend to reflect all that we build into our products and what we stand for.
Huntington Beach, California (PRWEB) February 20, 2014
DCS by Fisher & Paykel, a leading manufacturer of top quality, commercial grade indoor and outdoor kitchen appliances, announced the company is sponsoring Chef Charlie Palmer's 2014 Pigs & Pinot held in Healdsburg, California, March 21-22, 2014. DCS by Fisher & Paykel will be a Silver Sponsor and the exclusive supplier of outdoor cooking appliances for this one-of-a-kind epicurean weekend that benefits Share Our Strength's No Kid Hungry®, local scholarships and charities.
Chef Charlie Palmer will take over Wine Country with top food and wine talent by his side for the Ninth Annual Pigs and Pinot Weekend held at the award-winning Hotel Healdsburg and its acclaimed restaurant, Dry Creek Kitchen. This charitable celebration has become a coveted event amongst pork and wine enthusiasts eager to experience the creations of more than 60 wineries and 20 chefs who showcase their talents each year.
"The DCS by Fisher & Paykel brand is all about a premium cooking experience and recognizing the desire for home chefs to master restaurant culinary cooking. As a company, we also care deeply for the 16 million kids in America who live in households that struggle to put food on the table," says Gina Lathrum, brand marketing manager for DCS by Fisher & Paykel. "We couldn't think of a better partnership than with Chef Charlie Palmer and sponsoring his Pigs & Pinot weekend to reflect all that we build into our products and what we stand for."
DCS by Fisher & Paykel's commercial grade outdoor grills and kitchen appliances will be featured at "Taste of Pigs & Pinot" where Chef Charlie Palmer and guest chef and Top Chef alum, Bryan Voltaggio, will be cooking on the DCS Liberty Corner Design grill offering event attendees a sample of his pork creations. Taste of Pigs & Pinot is the largest event of the weekend's festivities, offering 600 guests, winemakers, chefs, and food and wine aficionados a taste of all things pork and Pinot Noir.
"At last year's Pigs & Pinot celebration, we raised over $130,000. Each year this event -- and the demand to be a part of it -- grows exponentially," says Chef Charlie Palmer. "From the chefs and winemakers to the sponsors and volunteers, l am overwhelmed by the support of everyone involved each year that help to increase our annual charitable contributions and to celebrate the marriage of pork and Pinot Noir."
About Fisher & Paykel
Since 1934, the Fisher & Paykel design heritage has been founded on a pioneering spirit and culture of curiosity that challenges conventional appliance design to consistently deliver products tailored for human needs. Incorporating outstanding performance and user-focused innovation, Fisher & Paykel and DCS by Fisher & Paykel appliance brands inspire people through indoor/outdoor kitchen and laundry products designed with real life in mind. Our brands incorporate innovative technologies driven from a passion to produce the most technically advanced, efficient and contemporary styled appliances. As pioneers of the world's first drawer dishwasher – DishDrawer® – Fisher & Paykel continues to pave the way for appliance innovation. Since the 1980s, DCS has defined cooking appliance innovation for the commercial food industry and designs commercial quality appliances for the home. Fisher & Paykel Appliances is a global company operating in 50 countries, manufacturing in the United States, Mexico, Italy, Thailand and New Zealand, employing over 3,300 people with revenue of more than $1 billion annually. For more information, please visit: http://www.dcsappliances.com/company/who-we-are/.
About Charlie Palmer Group
Hospitality Entrepreneur, Hotelier and Chef Charlie Palmer has received critical acclaim for his signature "Progressive American" cooking, a style built on rambunctious, intense flavors and unexpected combinations with an infusion of classical French cuisine. In 1988, he made a landmark commitment to creating dishes featuring regional American ingredients at his sublime Aureole, now in its 25th year and located in the Bank of America Tower at One Bryant Park. Over the years Palmer has established an impressive roster of restaurants across the country and a growing collection of boutique hotels and food forward wine shops. A frequent guest on NBC's Today Show, Palmer is also the author of five cookbooks, Great American Food (Random House/1996), Charlie Palmer's Casual Cooking (Harper Collins/2001), The Art of Aureole, (Ten Speed Press/2002), Charlie Palmer's Practical Guide to the New American Kitchen (Melcher Media/2006), and Remington Camp Cooking (Welcome Books/2013).
About SHARE OUR STRENGTH'S NO KID HUNGRY CAMPAIGN
No child should grow up hungry in America, but one in five children struggles with hunger. Share Our Strength's No Kid Hungry® campaign is ending childhood hunger in America by ensuring all children get the healthy food they need, every day. The No Kid Hungry campaign connects kids in need to effective nutrition programs like school breakfast and summer meals and teaches low-income families to cook healthy, affordable meals through Cooking Matters. This work is accomplished through the No Kid Hungry network, made up of private citizens, public officials, nonprofits, business leaders and others providing innovative hunger solutions in their communities. Join us at http://www.NoKidHungry.org.