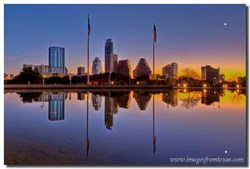 Austin, Texas (PRWEB) February 20, 2014
Forbes Magazine named Austin, Texas the fastest growing city in the United States for the fourth straight year based on six economic and population-based metrics from Moody Analytics that can be found here. This news came on the heels of Austin Business Journal reporting that Austin, Texas has 110 people a day moving to the greater Austin area. Both Residential and Commercial Real Estate inventory has shrunk to all-time lows as value skyrocket as a result.
Michele Turnquist CEO of Turnquist Partners Realtors of Austin, Texas said, "With home sales reaching historic levels in 2013, I do not foresee a change in the trend of a year-over-year increases in home sales and home values." She went on to note, "Luxury home sales (over $1 million) in 2013 hit an all-time high in Austin increasing 55 percent as businesses relocated from other States due to a friendly business environment and high quality of life."
Forbes noted that Austin had a 2.5 percent estimated population growth in 2013 — the highest of all geographic regions in the country. Also noted in the report was that Austin's economy grew at a stellar 5.9 percent in 2013. "That's pretty hard to beat", the report said.
Dallas and Houston were two of the other cities placed in the reports top ten with Dallas slipping one spot to fourth and Houston falling to the tenth spot from its 2013 mark of second. Texas' strong population growth, unemployment rate under 6 percent, business-friendly regulatory environment, lack of state income tax and highly educated labor market helped it put four cities on the list. Florida was the only other state with that number of cities. Read the complete Forbes report here.
For more information on Texas Real Estate contact Turnquist Partners Realtors, Inc. at 512.328.3939 or visit us online here. With offices in Austin, Lakeway, Houston, and Catula, Texas we can assist with all your Real Estate needs.