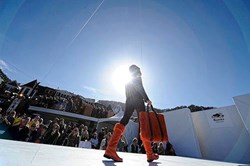 Aspen, CO (PRWEB) February 20, 2014
Aspen International Fashion Week is pleased to announce its designer line-up for the exciting four-day event, which will take place in Aspen, Colorado, from March 13th through 16th, 2014. AIFW will feature runway presentations showcasing the hottest new trends in outerwear, performance skiwear and luxury fur on the open-air Après Ski Stage, followed by evening events throughout the town of Aspen at select boutiques and venues.
Darcy Conover, pro skier and founder of BARE Layers will serve as the master of ceremonies for the Après Ski Stage. Known as one of Aspen's most fashionable and recognizable women, she will lend her expertise hosting the following shows on the Après Ski Stage.
The March 13th lineup includes Dennis Basso, A Perfect Moment and Columbia. On March 14th, Snowlink.com will feature presentations on F/W 14 Mega Trends and an Accessories Spotlight as well as collections by Gorski Furs and PolarMax. The lineup on March 15th includes Mountain Hides, ALR Style Tribe, Helly Hansen and Obermeyer.
Evening boutique events will be hosted by Yves Saloman, J Crew, Kate Spade, L'Occitane, Jitrois, Covet, Harmony Scott Jewelry Design, Surefoot and Sunglass Hut.
The closing event of AIFW 2014 will be the Black and White Ball, benefiting St. Jude Children's Research Hospital at the Caribou Club. This formal, masquerade themed event will featured collections from One Moon, Jitrois and Pilar Tarrau. The event will include a light menu, silent auction and dancing.
Brooke Fogg, President of Aspen International Fashion Week says, "We're thrilled to announce Dennis Basso as the opening designer for Aspen International Fashion Week. His collection is the definition of luxury. This year's show will be a unique blend of everything Aspen: high-end fashion and accessories, luxury fur, performance skiwear and outerwear."
AIFW designer and fashion icon Dennis Basso says, "I'm delighted and honored to be opening Aspen International Fashion Week. Aspen has become my 'second home'. Coming here for more than 20 years, I'm always interested in supporting this wonderful town as much as possible. I love being a part of the community."
Après Ski Stage Designers:
About Dennis Basso
Ultra-luxurious Dennis Basso is one of the most exclusive and desired fashion labels in the world. The brand's handcrafted products are manufactured with the finest and rarest materials, featuring designs reflective of the most current fashion trends and customer desires.
About Columbia
If it's true that experience brings wisdom, then Columbia Sportswear's more than 70 years in business should mean we know a thing or two about making great outdoor gear. We like to think so. Columbia is made up of real people who are as passionate about the outdoors as you are. And, while our products are available around the world, we're based in the great Pacific Northwest, where majestic forests frame volcanic mountains and a rugged coast. This is where we hike, ride, fish, hunt, climb, camp, golf, paddle, run, and just enjoy fresh air with friends.
About Gorski Furs
GORSKI is a leading brand of modern evening and designer furs, Cashmere and luxury outerwear trimmed with furs, Après Ski Jackets with fine fur trim, and fur or fur trimmed 'fashion must" accessories. Established in Montreal, Quebec, Canada in 1984, GORSKI has evolved as a leader in outerwear and fur fashion.
About Obermeyer
Obermeyer is Aspen. Founded in 1947 by legendary ski-pioneer Klaus Obermeyer Sr., our humble and kind mountain-town ski apparel company has since gone global over 65 years without losing what brought us all here in the first place – we love Aspen. We feel fortunate that our backyard mountain landscape provides us a living laboratory to test all our latest outerwear technologies and innovation.
About ALR Style Tribe
Born and raised only minutes from Northstar Ski Resort in California, up-and-coming designer Alessandra Richards has been in the ski and snowboarding industry since birth. After the Winter X Games in 2002, Richards found inspiration to shift her focus from competing as a snowboarder herself to dressing other winter sports enthusiasts. As a student at Parsons School of Design in NY and an assistant stylist for Glamour Magazine, Richards has had a chance to see groundbreaking fashion firsthand. Richards finds inspiration for her debut collection, Act'Keefe, from world-renowned 20th century artist Georgia O'Keefe.
About Polarmax
Celebrating 25 years of innovative technical base layer apparel, Polarmax® is a distinguished leader in the base layer marketplace. Our business is technical base layers. We focus on "next to skin" apparel that combines the finest in innovative textile chemistry with fabric development to produce the softest and most comfortable garments for you. We invest 100% of our company's resources to create the "high tech, soft hand" fabrics, functional designs and patterns, and technical flat seams techniques that set the high standard for our industry.
About Mountain Hides
Mountain Hides a luxury leatherwear and accessory line was founded out of a love for fashion, travel and unique wardrobe pieces. Co-owners Jodi Henderson and Laura Schoch have worked together at a Chicago area boutique for over 6 years and own an independent stylist business where they consult and style women in the affluent North Shore suburbs. Both have backgrounds in fashion and have aspired to delve into the design side of the business for years.
The Black and White Ball, Benefiting St. Jude Children's Research Hospital Featured Designers:
About One Moon
We are a luxury purveyor with elegance at its core and philanthropy in its heart. Created with a sophisticated, modern woman in mind, One Moon keeps out the chill while leaving you looking effortlessly chic.
One Moon provides warmth from morning to night so you can conquer your day-to-day triumphs, ultimate ventures and everything in between. Your dearest adornment for the American Riviera, the chalet chic, the city slicker or soiree season.
One Moon. Love. Wear. Give.
About Pilar Tarrau
Inspired by her formative years on country estates in her native Venezuela, Pilar Tarrau uses only the highest quality leathers, furs and materials in her remarkable handbags and accessories. She conveys a distinctive design aesthetic and artistic mastery, creating a new standard of luxury, timelessness and elegance. Her western bag collection, inspired by childhood ski trips to Aspen, features calf hair accented by mink and fox fur, velvet, leather and exquisite metals details.
About Aspen International Fashion Week
Aspen International Fashion Week is a luxury fashion event unlike any other in the world. The four-day event features runway presentations showcasing the hottest new trends in outerwear, performance skiwear and luxury fur on the open-air Après Ski Stage, nestled at the base of Aspen Mountain. Following the runway presentations will be evening events throughout Aspen. The event will include après-ski fashion shows, sponsored evening soirées along with musical, tech industry, food, sustainability and healthy lifestyle tie-ins. For more about AIFW visit us at http://aspenintlfashionweek.com/.
Contact:
AIFW PR DeDe Brown dede(at)aspenintlfashionweek(dot)com or 917-328-9117
AIFW President Brooke Fogg brooke(at)aspenintlfashionweek(dot)com