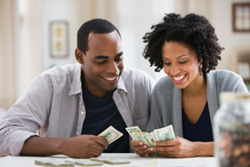 Mystery shopping is a great opportunity to actually make money, rather than spend it, at the mall.
San Jose California (PRWEB) February 24, 2014
As bitterly cold temperatures and snowdrifts the size of minivans descend upon many parts of the country, the motivation to adhere to your New Year's fitness goals may be waning day by day. While you began the first of the year with every intention of breaking a sweat and ramping up your cardio before swimsuit season hits, many people find that being stuck indoors prohibits them from a real workout. To make matters worse, this lack of exercise, along with the decrease in sunshine that accompanies the winter months, can also contribute to depression. This lack of daylight is referred to as Seasonal Affective Disorder and can be very debilitating.
To tackle these issues, folks around the country are taking to the malls and engaging in a sport now known as Mall Walking. At some indoor malls, local walkers have even developed mall walking clubs. At the Mall of America, in Bloomington, Minnesota the MOA Mall Stars offer regular meetings to provide support as well as incentives for those participants who reach their monthly and annual goals. Walking at a brisk pace within the mall setting, will burn approximately 300 calories per hour. Participating in such an activity on a regular basis is sure to go a long way towards meeting any New Year's weight loss goals, while seasonal depression is also diminished. As long as walkers can steer clear of the food court area and resist the scent of freshly baked cookies, walking is sound and free cardio exercise.
Another benefit to walking in a mall is the opportunity to make a little extra cash as you exercise. According to Vicki Dempsey, Vice President of Sales and Marketing at Jancyn Evaluation Shops, "Mystery shopping is a great opportunity to actually make money, rather than spend it, at the mall. For those already engaged in mall walking, it is a wonderful use of their time either before or after the walk." Mystery shopping uses secret shoppers to patronize establishments, anything from jewelry shops to restaurants to clothing retailers, and assess their level of customer service. The shoppers get paid by the mystery shopping company for their time and impartial reporting.
States Dempsey, "Individuals interested in mystery shopping should ensure the company they work for are accredited by the Mystery Shopping Providers Association or MSPA. They ensure that all registered companies like Jancyn abide by the high standards of the industry."
Mall walking is the perfect answer for those wanting to work in a work-out in the middle of an otherwise dismal winter. The opportunity to make money via mystery shopping while engaged in such a heart healthy activity is simply an added bonus.