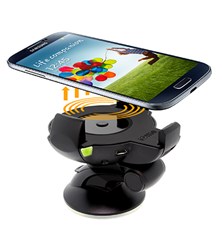 (PRWEB) February 21, 2014
HSM CO., LTD. Exhibits EWC-3000 (qi wireless charging mount) at Mobile World Congress 2014, at Hall 7 Stand 7G61, February 24~27 in Barcelona.
HSM CO., LTD, an innovator in car mounts, showcases EWC-3000 at the Mobile World Congress in Fira Gran Via in Barcelona, Spain, February 24-27, 2014, Hall 7 Stand 7G61. HSM's new EWC-3000, obtained qi standard, will allow users to hold their smart phones in the car without concerning about battery discharging.
Prior to MWC, HSM launched EWC-3000 at CES 2014, January, Las Vegas. At the show, EWC-3000 was recognized its practicality and creativity by integrating qi standard with cradle, so it made wireless charging in the car possible. EWC-3000 won 'CES Innovations Design and Engineering Award 'in Wireless Handset Accessories category.
HSM has been a leader of Smart Phone holders for 15years. It has been developing top quality cradles in cooperation with global companies, Samsung, LG and more. At the same time, HSM's creative Model 'One-Touch Car Mount' has become the best seller in the US Amazon and wide-spreading to Europe as well as Japan market.
Based on its accumulated technology and history as a car cradle manufacturer, HSM developed qi embedded EWC-3000 and signed up for LG Gx. Especially for LG Gx, applied NFC to the cradle as well for 'LG Gx Car Mode Utility'.
Further, HSM is planning variety of projects with global companies and will get the fruitful outcome on such projects soon.
EWC-3000 is using inductive coupling way and WPC qi certified, so any product attached with a WPC (Wireless Power Consortium) qi logo are compatible with any manufacturer's product. Currently most of the Major Smart Phone manufacturers are adopting or are planning to adopt qi wireless solution for their products and it will enable EWC-3000 to be applied broadly.
One of the main features of EWC-3000 are size adjustable arms and bottom bracket, suits for all current qi wireless embedded Smart Phones or to be released so, it is expected to be more attractive solution for wireless charger.
For more details and specifications regarding EWC-3000, please send an email to kyle(at)hsmtech(dot)com or visit http://www.hsmtech.com. Contact information to the office is 82-2-573-5466 by phone. Visitors to Mobile World Congress will be able to experience EWC-3000, which will be displayed in Hall 7 Stand 7G61.
About HSM
HSM Co., LTD has produced quality car cradles over 15 years. Started navigation cradles business with Samsung and LG and expanded it to smart phone and tablet pc holders. Not only ODM, developed HSM's own products and launched in USA, Japan and Europe and getting more positive responses.