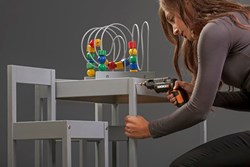 The key is the WORX SD SemiAutomatic Driver's six-slotted, revolving cartridge that holds six standard one-inch, hex-shanked bits.
Charlotte, N.C, (PRWEB) February 20, 2014
The kitchen tool drawer is a well-established tradition, even in homes with fully equipped workshops. That's because most simple repairs and small projects occur in the main living area, not only in the basement or garage. And do-it-yourselfers are men and women of action, who like to quickly grab the right tool and get busy
Basic household fixes and projects are many and varied. For example: they include hanging pictures, putting up blinds and curtain rods, fastening products that "require assembly," repairing toys, building shelves, tightening drawer handles and hinges, mounting peg board, changing switch plate covers, installing door sets, building bird houses and planters …the list goes on.
There's always an annoying loose screw somewhere around the house that conventional screwdrivers don't fit. This is no longer a hassle with the WORX SD Driver. You can quickly switch from slotted to Phillips to Torx® and square recess bits in several sizes at will. No more digging in your tool box for manual drivers, or in your pocket for the right bit.
The key is the WORX SD Driver's six-slotted, revolving cartridge that holds six standard one-inch, hex-shanked bits. Slide back tool's top cover, then push it forward and the selected bit moves into the chuck. The driver comes with two cartridges loaded with a total of 12 bits: Phillips #0, #1, #2; Slotted #4; Hex #3, #4, #5; square recess #1, #2 and Torx T10 and T20. There's even a screw-starting bit for drilling pilot holes.
Suppose you don't need this many hex or Torx bits, and would rather have more sizes of slotted bits at hand. No problem. One-inch, hex-shanked bits are widely available at home centers and hardware stores. So you can mix and match bits to customize the cartridges to meet your own needs.
The WORX SD Driver is powered by a built-in, 4-volt, lithium-ion battery. This means you can keep the driver in the kitchen drawer for up to 18 months without needing to recharge its battery. When the time comes, the plug-in charger will bring the driver to a full charge in 5 hours.
The WORX SD Driver is constructed of GFN composite with a comfortable rubber grip on the handle. It features a two-finger trigger, an LED light to illuminate the work area and a forward/reverse rotation button. The tool weighs one pound, has a ¼-inch chuck and a maximum torque rating of 27 inch-pounds.
The WORX SD SemiAutomatic Driver (WX254L, $39.99) is available at http://www.worx.com and other websites; also Amazon, Menards and Lowe's, as well as regional hardware and home centers nationwide.
Follow WORX on Facebook: https://www.facebook.com/worxus?ref=hl, Twitter: https://twitter.com/WORXTools, Pinterest: http://pinterest.com/worxtools, Instagram: @WORXTools and Vine: @WORXTools