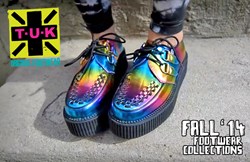 San Diego, CA (PRWEB) February 20, 2014
The new edgy video features the bold original footwear styles that T.U.K. is well known for creating. Hundreds of likes & comments are pouring in to the video post with fans telling the brand which new Creepers are their favorites. T.U.K. will randomly pick out one fan and send them a free pair of those shoes.
See the video and pic your fav pair here: https://www.facebook.com/photo.php?v=690779367641378&set=vb.115232468529407&
About T.U.K. Footwear
Since their start in 1991, the San Diego, CA based footwear company T.U.K. has been creating bold, original footwear for men and women. Footwear made for and inspired by bands, music fanatics, fashionistas, and individuals with eclectic tastes. With their huge range from traditional classics to modern upstarts they are constantly providing creative style with an original edge.
For more information, please visit http://www.tukshoes.com.