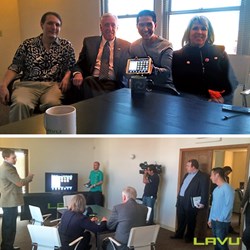 Lavu is proof that companies can thrive by making products here in the United States. - Congresswoman Michelle Lujan Grisham
Albuquerque, NM (PRWEB) February 21, 2014
Congressman Hoyer was accompanied by Congresswoman Michelle Lujan Grisham in visiting the Lavu Inc. headquarters. The visit was in regards to the Make it in America Challenge, which was introduced to support U.S. domestic industry and growth. The goal of the Make it in America Challenge is simple. It is designed to encourage American companies to remain stateside and expand to allow for job growth. According to the United States Department of Commerce, there has been a welcomed increase in U.S. manufacturing recently.
"The Make it in America plan is all about fostering innovation, supporting domestic manufacturing and expanding economic opportunity for middle class New Mexicans," Lujan Grisham said. "Lavu is proof that companies can thrive by making products here in the United States. It's good for the local economy, it's good for jobs and it's good for business."
Lavu iPad POS is currently based completely out of Albuquerque, New Mexico with Specialists, Lavu's partner resellers, all over the world that sell and install the iPad point of sale system. It has always been Lavu Inc.'s mission to go against the common formula in software and remain a U.S. technology based company. The visit with Representatives Hoyer and Lujan Grisham was a round table discussion that helped develop a strategy to engage new technology companies to stimulate larger job creation through domestic production. Lavu iPad POS is combating common practices such as outsourcing and keeps everything local while taking advantage of the high quality tech industry the U.S. offers. This allows Lavu iPad POS to provide services that exceed most standards.
Andy Lim, CEO of Lavu Inc. stated about the meeting, "We are honored to be recognized for our contributions to our community and we hope to be the catalyst for tech community in Albuquerque".
The Make it in America Challenge has created momentum and a reason to keep jobs in America. The program promotes what has been the goal at Lavu Inc. in the development of a successful American company in an international economy. Carrying that momentum, the program is an initiative designed to accelerate job creation and growth aiding with further resources, partnerships and incentives to existing and new U.S. based manufacturing and technology companies.
With the tour winding down, Congressman Hoyer and Congresswoman Lujan Grisham had a chance to listen to some Lavu Inc. staff members play some live music. This demonstrates the modern approach a newly successful American company like Lavu iPad POS uses to promote creativity and encourage employees.