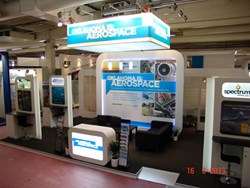 Absolute Exhibits offers innovative exhibit rental solutions while remaining budget conscious.
Tustin, CA (PRWEB) February 20, 2014
2014 is the year to test the European marketplace by exhibiting at a European trade fair. IFA Berlin is the largest electronics conference in the world with 240,000 attendees, 80,000 more attendees than CES Las Vegas. Absolute Exhibits will handle the entire exhibition process across Europe at all-inclusive discounted rates for exhibitors through December 31, 2014 when booked by June 30, 2014. Make sure that you make a statement with a custom exhibit rental. Highly awaited there will be the more than 50 companies that will preview new consumer electronics and home appliances for work, home and play at ShowStoppers IFA 2014, the official press event of IFA . Among the new releases rumored to be announced is Samsung Galaxy Glass and Samsung's smart glasses, they are tipped to be the main attraction during Samsung's IFA 2014 press conference.
Current monetary exchange rates are quite favorable and the timing for stepping into the European marketplace rather promising with the reception for American services and products in high demand outside US borders. English is the dominant and accepted language of international commerce. The US dollar represents over 70% of the currency of use for foreign transactions between nations, even contracts not involving a US company. Book a space at IFA Berlin 2014. Absolute Exhibits can help with every aspect of this process, providing the same level of quality in exhibition manufacture and service in Europe as they do in the USA. Work with a US based Absolute Exhibits account executive in your native language and at local hours and all of the European work will be handled.
Absolute Exhibits has an in house exhibit design team and fabricators in Europe that will meet customers' needs on every level on the European show floor.
The Absolute Exhibits' European team is multilingual and composed of crafts people with exceptional fabrication techniques. Absolute Exhibits offers innovative exhibit rental solutions while remaining budget conscious. IFA Berlin could very well be the first stop in a very powerful new aspect of your worldwide expansion.
About Absolute Exhibits
Absolute Exhibits, established in 2000, rents and sells large custom exhibits at over 300 shows in the USA and in countries around the world. Absolute Exhibits is dedicated to providing distinctive marketing settings as well as pre-and-post show and event marketing and support services for our clients. At Absolute Exhibits every aspect of the exhibition project is handled using in-house resources and every question is answered in-house, as well. Absolute Exhibits is a true one-source exhibit house.