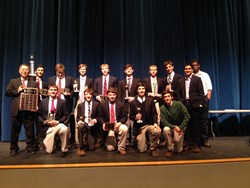 Hunting Valley, OH (PRWEB) February 21, 2014
University School's speech and debate team had one of its most successful tournaments ever at the National Forensic League's Northcoast District Tournament held recently in Cleveland, Ohio.
Five University School students qualified for this year's NFL national tournament, which will be held in Overland Park, Kansas, June 15-20.
Victor A. Mezacapa, who was the only undefeated Lincoln-Douglas debater, will compete in nationals for the third year in a row. In addition, as the two-time winner of the City Club of Cleveland's High School Debate Championship, Victor will compete in that event for the third consecutive year on March 14.
In Public Forum Debate, the team of Armin Ameri and Aidan Brandt, and the team of Sam Weitzman and Geoff Schoonmaker qualified for nationals. This will be the second time Weitzman has competed in the national tournament.
In Lincoln-Douglas debate, Gabe Kaufman was named the first alternate and Reese Wells was named the second alternate.
In Public Forum debate, the team of Will Taber and John Mino was named the third alternate and also qualified for the Ohio state tournament. The team of Carter Weinberg and Chris Raguz was named the second alternate.
In addition to the individual awards, University School's Speech and Debate team won four awards, including the National Forensic League's Leading Chapter award, which is given to the team that has earned the most cumulative points throughout the year. The school last won this award in 2003.
University School also won the Northcoast District Cumulative Sweepstakes award, the Haight-Chunat Debate Trophy, and the NFL debate sweepstakes award.
Peter Paik is the head coach of the University School speech and debate team. He is assisted by coaches James Lewis and Anthony Clairmont.