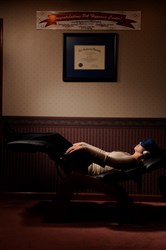 Our goal is to wire the brain to perform 'in the zone' automatically
Pittsburgh, PA (PRWEB) February 20, 2014
As competition heats up in Sochi, stories are coming out every day about Olympic successes and Olympic disappointments. Everyone's talking about the success of Meryl Davis and Charlie White who won the first ever Olympic Gold for the USA in Ice Dancing. Davis and White had settled for Bronze in Vancouver four years ago but now they are on top of the world as Olympic Champions. Americans Steven Holcombe and Steven Langton made history by breaking a 62 year drought for the US in Two Man Olympic Bobsled. Holcomb fought through the pain to deliver an epic performance despite a calf injury. He insists the pain will not slow him down in the Four Man runs either. The US Olympic Men's Hockey Team led by Pittsburgh Penguins Head Coach Dan Bylsma is on fire and the US Olympic Women's Hockey Team advances to the Gold Medal Game. These successes can be attributed to the mental preparation done by these athletes to help them perform under such intense pressure.
The US Speed Skating Team has brought national attention to their brand new Under Armour Designed suits after their disappointing performances. The controversy is that the suits are slowing down the Americans, however, it could also be that the suits are affecting their mental game. If they perceive the suits to be slowing them down, they are. This example really illustrates the importance of mental training. Dan Vitchoff is an Olympic Mental Training and Performance Coach who specializes in helping his athletes reduce the anxiety related to competing at such as high level as well as helping them to overcome variables such as wind, weather and in this case uniforms. Vitchoff work was recently highlighted in an interview by Pittsburgh NBC affiliate WPXI on their daily Olympic Webcast PXI Live. Vitchoff explains, "Our goal is to wire the brain to perform 'in the zone' automatically." Vitchoff has developed two pieces of equipment, the Original Mind Gym and the Mini Mind Gym which facilitate the "33 Method" Mental Training Programs.
There will always be distractions and variables during any competition, Vitchoff's athletes learn to use mental training to perform at their best despite these variables and distractions. Olympic athletes dedicate their entire lives preparing for the Olympic Games. Olympic athletes are by far, the most physically disciplined and talented athletes in the world. By the time you get to this level, there is a very small variation, approximately 1 ½ of 1% in the physical skills and talent of each of these athletes within their own sports, they really do represent the best of the best. There is only one component that can make the difference between a gold medal performance and not medaling at all and that is the mental game.
Dan Vitchoff, Pittsburgh Hypnosis Expert and Olympic Mental Training Coach helps Olympic athletes keep their brains in the game. Vitchoff explains, "These athletes train their entire lives for the Olympics so when they finally get there, they are like kids in a candy store. They want to enjoy the entire experience, the Olympic Village, meeting athletes from all around the world and sharing this experience with friends and family members but they also have to maintain focus and concentration to compete flawlessly during competition. Every athlete coming to the Olympics wants to win a Gold Medal. That is the ultimate goal. The athletes that will win the Gold Medal are the ones that are the most prepared mentally. We work with our athletes to help them alleviate the anxiety related to compete at such a high level and "compartmentalize" so that they can enjoy the experience when it's time to enjoy the experience and then they can get "into the zone" and perform flawlessly under pressure when it's time to compete."
Vitchoff is best known for the nationally acclaimed sports performance technique, "The 33 Method" that he developed through his work with Olympic Gold Medalists Glenn Eller and Vincent Hancock. Hancock and Eller took the shooting world by storm when they won Gold in the 2008 Olympics in Beijing and then Hancock became the first athlete in history to repeat his Gold Medal Performance in Men's Skeet in London in 2012. Vitchoff explains, "We knew we were doing something different, something unique but we had to keep these methods and techniques secret until after the 2008 Olympics. The 33 Method became the "secret sauce" of our athletes' mental training and development. Nothing like this had ever been done before."
Since, his success in 2012, Vitchoff has had the opportunity to share the 33 Method with many up and coming athletes of all levels in a variety of different sports to help them achieve their full potential. Many athletes at one time or another develop fears or mental blocks that can be paralyzing, Vitchoff's 33 Method Mental Training techniques can help athletes overcome mental blocks, fear and anxiety. Whether an athlete is competing on an individual basis such as figure skating or gymnastics or in a team sport like hockey they need to be able to calm the part of their brain that causes anxiety and distraction so that they can perform flawlessly under pressure.