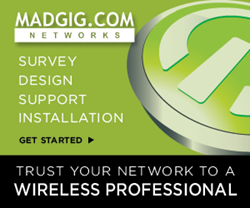 WiFi is no longer a luxury. It is a basic necessity to be competitive.
Boca Raton, FL (PRWEB) February 25, 2014
The Casino business is expected to be a 48-billion dollar industry by 2015. Casinos today are investing in commercial grade WiFi networks throughout all areas of their facility from gaming rooms to restaurants to meeting spaces as well as outdoor areas. There is a universal expectation among employees, consumers and guests when it comes to wireless freedom and those expectations are very high. With that said, there is no room for failure.
A popular gaming destination in Florida, The Daytona Kennel Club & Poker Room (DKC), recently hired MADGIG.COM Networks based in South Florida to upgrade their entire network and reconfigure the WiFi through a carefully designed plan customized just for them. Now DKC offers a WiFi connection second to none for their many devoted customers making gaming a pleasurable experience encouraging them to stay longer which eventually leads to more spending.
Jonathan Grimm, IT Manager, was in charge of overseeing the entire WiFi installation and worked directly with a dedicated MADGIG team. "From the consultation to the implementation and follow-up support, they have consistently offered a high level of service and expertise. The reliability of the wireless infrastructure we have received is extraordinary. With such a solid wireless foundation we have been able to expand the scope of our wireless offerings - everything from Wireless Presentation Systems, Guest WiFi access, Wireless Mobile Workstations with more to come this year. None of would have been possible without MADGIG!"
MADGIG.COM has been in South Florida for 10 years and is a recipient of the 2013 Best of Fort Lauderdale Award in the Wireless Networking category which provides recognition to companies that show the ability to use best practices and implement programs to generate competitive advantages and long-term value. Only top manufacturers in the industry partner with MADGIG.COM knowing their products will be part of a successful installation offering high-level service and support. MADGIG.COM has a variety of clients that represent the hospitality, corporate, commercial and retail Industries.
For inquiries on WiFi installation contact:
Joseph Voldeck II
855.806.6711
sales(at)madgig(dot)com
http://www.madgig.com