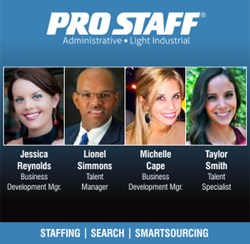 We're thrilled at Pro Staff's ranking as the largest Houston-area temporary placement agency, and we're committed to continued growth while delivering unequalled service. -Doug Karr, VP, Pro Staff-Houston
Houston, TX (PRWEB) February 20, 2014
Pro Staff, a division of Atterro and recently recognized as the largest temporary placement agency in the Houston area, is proud to announce the promotion of Michelle Cape from Talent Manager to Business Development Manager and welcomes Lionel Simmons as Talent Manager in Houston's S.E. branch. Jessica Reynolds and Taylor Smith join Pro Staff as Business Development Manager and Talent Specialist respectively in the Houston Galleria branch.
Mr. Simmons was most recently a Senior Recruiter with McDermott International, Ms. Reynolds was an Events Specialist and Business Development Manager with Aztec Events & Tents, and Taylor Smith was the former Talent Acquisition Coordinator with Alliant Group.
The promotion and new hires are aligned with Vice President Karr's strategy for team building and growth in 2014. All four individuals are excited to be under the leadership of Mr. Karr and part of a company that's recognized for its success.
Karr explains, "We're thrilled at Pro Staff's ranking as the largest Houston-area temporary placement agency, and we're committed to continued growth while delivering unequalled service."
Pro Staff, with its focus on light industrial and administrative placement, is just one of Atterro's six specialty placement services.
"My goal is to position Pro Staff as a team of experienced specialists and the go-to partner for comprehensive staffing success. Atterro's multiple brands give us an edge in placing talent with skills in IT, Engineering, Creative, Interactive, Marketing, and Finance and Accounting. We are on track to deliver a one-stop solution to place the right talent in the right place," says Karr.
Atterro Human Capital Group offers interim staffing, search and SmartSourcing services to local, regional and national customers. Atterro's experienced industry professionals utilize the latest research, recruiting technology and assessment tools to serve clients through its six specialty brands—Blue Edge RPO for Recruitment Process Outsourcing, Digital People for Creative, Interactive and Marketing, Hunter Hamilton for Finance and Accounting, Pro Staff for Administrative and Light Industrial, Technical ProSource for Information Technology, and Ware Technology Services for Engineering. Visit http://www.atterro.com.
Contact:
Susan Rylance
SVP Marketing
email: Susan.Rylance(at)atterro(dot)com
ph. 612‐373‐2600