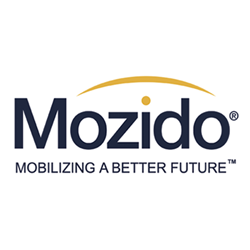 Our mission is to mobilize a better future for all people.
AUSTIN, TX (PRWEB) February 20, 2014
Mozido Inc. has been named as a finalist for a 2014 PYMNTS Innovator Award in the category of Best Prepaid Innovation. The company is being recognized for their Citizen ID/Prepaid MasterCard™ which supports financial inclusion for the underbanked by using the Mozido mobile wallet for financial services, and their Citizen ID/Prepaid MasterCard as the funding source. The program has already been deployed with Mozido's strategic partner, SF Global, in the City of Oakland, California, where it serves as a city sanctioned identification card combined with a low cost prepaid MasterCard. The combination card is innovative because it targets unbanked members of the community, giving them an approved form of identification, access to local city services, and enables them to conduct financial transactions on their mobile phone that include paying bills, sending money within the US and internationally, and topping up their prepaid mobile accounts.
"We are truly excited to be recognized for our Citizen ID/Prepaid MasterCard because it not only provides an ID for the large number of the population that don't have accepted identification, but it also gives people without bank accounts a funding source to conduct financial transactions using their mobile phone." states David Luther, CMO of Mozido. "Our mission is to mobilize a better future for all people."
"The PYMNTS Innovators Awards is one of the most inspiring aspects of The Innovation Project," says Karen Webster, CEO of Market Platform Dynamics and President of PYMNTS.com. "It puts innovation front and center and serves as a very visible reminder of the creative spirit and energy that will drive our massively dynamic payments and commerce ecosystem forward."
Voting will remain open thru February 27th at 12 noon EST. Winners will be announced the evening of March 20, 2014 during a live ceremony following the conclusion of The Innovation Project 2014, a two-day program hosted by PYMNTS.com.
For more information on Mozido and its Citizen ID/Prepaid MasterCard Mobile Wallet visit http://www.mozido.com.
To vote for Mozido, click here, scroll down to the BEST PREPAID INNOVATION category and select Mozido.
About Mozido
Mozido provides an integrated platform of cloud-based, white-label, mobile payment, shopping and marketing solutions, complemented by real-time, customer behavior analytics. Mozido enables companies in retail, financial services, consumer packaged goods and telecom to serve both banked and unbanked consumers, and mobilize a better future for all people. Our platform is highly interoperable and can work with virtually any wireless carrier or mobile device, including smartphones and feature phones. For more information, visit us at http://www.mozido.com. Follow us on Twitter: @MozidoGlobal.
About The Innovation Project
Over 2 days, 60+ speakers and 600 senior members of the payments industry will change the way that the payments and its broader commerce ecosystem thinks, talks, delivers and ignites innovation. On March 19th & 20th the greatest minds in commerce and payments will assemble at Annenberg Hall in Memorial Hall on the Campus of Harvard University* near Boston to kick the conversation about innovation up to an entirely different level at The Innovation Project. Speakers and delegates are among the most senior executives from literally every established payments company worldwide.