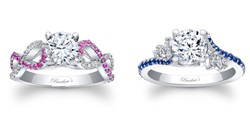 Los Angeles, California (PRWEB) February 20, 2014
Barkev's is now offering dazzlingly bright engagement rings to their customers. Choosing the perfect color and design has never been more stylish. Offering a modern twist on traditional engagement rings, Barkev's adds pink and blue sapphires to their collection. Their black diamond engagement rings continue to offer drama and depth to those looking to make a statement. The popularity of the black diamond engagement ring collection gave way to this new collection. Finding the perfect engagement ring can be a daunting task, which is why Barkev's wants to offer their customers a variety of options. The pink and blue sapphires can add a feminine and romantic touch to any engagement ring. By incorporating soft colors, the ring can transform into a special piece that is truly memorable. These show stopping elements are exactly the impact that a couple hopes to make when announcing an engagement. The pink and blue sapphires will brighten a room and create a well talked about piece of jewelry.
Creating a customizable engagement ring that incorporates bright colors has never been more unique. All of Barkev's designs and pieces are made in the USA. They take pride in their high quality designs and implementation of these creative pieces. Barkev's offers customers the chance to create one of a kind pieces that represent an individual's personality and taste. Being bold and proposing with a lovely blue sapphire can be regal and sophisticated. Getting down on one knee and presenting her with a pink sapphire engagement ring is whimsical and lovely. Barkev's pink and blue sapphire collection designs are truly timeless and sophisticated.
About Barkev's: Since 1981 Barkev's has been successful in the designing and manufacturing of fine jewelry. Our continuing efforts enable us to offer to our customers the finest quality of engagement rings and fine jewelry. Our factory is located in Los Angeles, and we take pride to say that all of our jewelry is designed and manufactured completely in our facilities. To see our unique engagement rings and all of our newest designs, browse through our collections page.