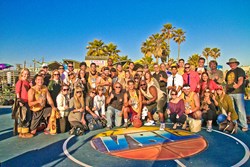 It wasn't until I had finished playing college football and entered into the work force as an entrepreneur that I realized how competition was one of the best ways to build chemistry between groups of people. - Chris Carter
Venice Beach, CA (PRWEB) February 21, 2014
In 2008, as a 22 year old NCAA College Athlete for the USC Trojans Football Team, Steve Gatena began his work on REP Interactive a video and broadcast media startup concept. As a championship athlete and entrepreneur, Gatena has been featured in outlets like Forbes, shown on programs like 60 Minutes, and nominated for awards by companies like Mashable. To this day, he attributes much of his success to playing for Super Bowl Champion Coach, Pete Carroll, while he was with the USC Trojans, and growing up as a competitive athlete; playing along side NFL greats such as Clay Matthews, Matt Kalil, and Super Bowl MVP Malcolm Smith. Sports are important to Steve, therefore sports are important to his video and broadcast media agency REP Interactive. This Silicon Beach Startup is one of the few companies that encourages employees to stay active and compete at high levels outside of the office. Listed below are six tips that REP Interactive practices, which any corporation can use to help establish a successful corporate sports team.
1. Make it Fun
Join a league or organization that has a fun (and competitive) atmosphere. "As a California business owner, my favorite company sports team experiences seem to manifest during the summer; the time of year when we play in the Venice Basketball League (VBL) down at Venice Beach in Los Angeles, California. The VBL is a sort of semi-professional 'street ball' league where the NBA meets the WWE. The league includes some of the best athletes, the most entertaining MC's, and thousands of tourists from around the world who come out to watch us play. What more could you ask for?" says Steve Gatena, CEO of REP Interactive.
2. Reward Success
Even simple acts, such as displaying a winning trophy, or sending out a company wide email, can help establish positive report between employees. "As a former Division 1 NCAA football player, I always knew how much fun competitive sports were. It wasn't until I had finished playing college football and entered into the work force as an entrepreneur that I realized how competition was one of the best ways to build chemistry between groups of people," says Chris Carter, REP Interactive's Executive Vice President.
3. Create New Leaders
Establishing leaders on the field can help individuals transgress into leadership roles in the office. "I didn't know it at the time, but playing football alongside my business partner, Steve Gatena, fostered a relationship that focused on working together, while also teaching me how to become an effective leader. Even when we practiced going against each other we were always working towards a common goal. At REP Interactive, our coworkers get to experience team building by playing on basketball teams down in Venice Beach, as well as the Nike Sponsored Entertainment Flag Football League. These highly competitive sports leagues help REP Interactive's internal chemistry greatly. We've seen our employees become closer while also becoming better managers. I think its adding a great deal to our success."
4. Rely on Each Other's Strengths
REP Interactive's first VBL team, dubbed 'The White Collars' by VBL MC's took home third place their first season. The VBL hosts a variety of athletes such as the NFL's Terrell Owens and the NBA's Metta World Peace aka Ron Artest. Also street ball icons such as RedBulls 'King of the Rock' champion "The Beast" and "Manilove" the only four foot five player to embarrass nearly every opponent. In an extremely competitive basketball league such as the VBL, it is important to trust your teammates; a skill set which is extremely valuable off the field as well.
5. Help One Another Overcome Weakness
As a hyper-competitive corporate media company, REP Interactive takes pride in working hard and setting high standards. As their dozens of awards for work in video and broadcast media production would indicate, they have a track record of success. REP Interactive's productive and competitive attitude isn't just an internal part of their culture, that same attitude seems to apply outside of the boardroom as well.
6. Make It a "Family" Thing
"Employee's at REP Interactive who participated in the VBL have unanimously agreed that it was a great experience. By competing together at such a high level outside of work, we built more trust and respect for one another and we gained a deeper insight into each other's strengths. For example, we found out that one of our top sales guys, nicknamed 'Agent 99', was a leader and had the ability to finesse his way through high-pressure situations on the court. He was our go-to closer for the game winning shots. As a top tier salesman, this was no surprise. One of our Directors on the other hand, nicknamed 'That 70's Show', regularly displayed his creativity on the basketball court. Almost every week he would come up with unique new moves and unconventional ways to dunk on our opponents." - Steve Gatena, CEO of REP Interactive.
"Initially it seemed uncomfortable for them. There was plenty of trash talking from opponents before the games even started and our guys didn't say a word. The locals knew they weren't from the inner city so they didn't expect much from them," said Judy Gatena, President of REP Interactive and mother of CEO Steve Gatena, "but these guys came out and made their presence known. One of the first plays of the game 'That 70's Show' came out and nearly poster-ized one of his opponents. After that 'Agent 99' took control, became the natural leader that he is, and started implementing effective strategies that led to a great victory. It was entertaining to watch and fun for the families. It truly brought the guys on the team closer together. It was one of those rare moments where you could see the tangible value added by having a corporate sports team. It is a great part of our company culture."
7. Take Photos & Videos - Both of which are great reminders of the experiences the employees went through together.
So what has REP Interactive learned by supporting its employees interest in hyper-competitive corporate sports? That physical team activity outside of the office has a major positive impact on its organization, both personally and professionally. The confidence of winning championships on the court can directly translate to higher performance in the boardroom. Also, if the chemistry in your office is excellent, sometimes the only way to improve that chemistry is by stepping out of the offices and creating new challenges, which must be overcome as a team.
To find out more about REP Interactive visit http://www.repinteractive.com and for more information on the Venice Basketball League visit their website at http://www.veniceball.com.
About REP Interactive
REP Interactive is an award winning Video & Broadcast Media Agency. REP empowers businesses with video & broadcast media solutions that increase revenue, decrease expenses, and achieve communication goals. Since 2009, clients like Coldwell Banker, Marriott Hotels, and GE Healthcare have relied on REP Interactive for their ability to create innovative solutions to corporate communication problems.
Please contact Chris Carter, REP Interactive for inquiries: Chris(at)repinteractive(dot)com or call 888-789-1299.