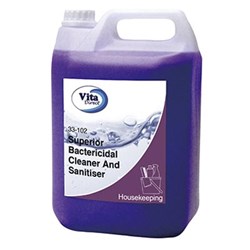 (PRWEB UK) 22 February 2014
The results published in the Mail Online on the 27th January 2014 echoed findings that were published in Real Simple Magazine on the same day. The article detailed areas such as stove knobs, remote controls, light switches and walls by the toilet among the dirtiest and most germ infested areas in the house.
The truth is that there are a number of places within homes and offices that are both high traffic areas and may get neglected during the cleaning process which results in a bacteria build up. Tap handles, keyboards and vending machine buttons should all be remembered when cleaning.
There are a number of products available that can ensure a high level of sanitation in a wide range of environments. Superior bactericidal cleaner and sanitiser is ideal for cleaning surfaces such as walls near the toilet, light switches and tap handles. The sanitiser has an extremely low hazard rating, is not corrosive and removes grease and grime. The sanitiser is also suitable for damp mopping and kills MRSA and common food poisoning bacteria such as salmonella.
For items such as keyboards or remote controls we suggest the blue disinfectant bucket wipes. These wipes are ideal as they allow easy sanitation of utensils and kill bacteria and viruses such as E,coli, salmonella, MRSA and C-diff.
Products are also available that are specifically designed for the cleaning of telephones, headsets etc. The telephone sanitiser prevents cross infection by reducing the spread of airborne bacteria. The product can be used to sanitise telephones, microphones and headsets as well as being used as a germicidal air freshener.
Vita Direct is a company based in the North East of England that specialises in janitorial and cleaning solutions.
Visit us at http://www.vitadirectuk.com.
Read the mail online article here.