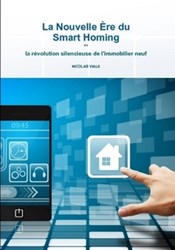 This trend certainly piqued my interest, so we did the research and what we found was amazing.
Nice, France (PRWEB UK) 22 February 2014
Nice Properties New Build specialist Nicolas Viale recently published his third book on new build real estate, in French, titled "La Nouvelle Ere du Smart Homing - A silent revolution in new build real estate" where he discusses the scope of technologies applied to new build industry in response to the looming fossil fuel crisis the world is heading towards in the future.
In the book Viale talks about an unprecedented demographic explosion with an estimated global population of 7 billion people by 2025 and 9 billion by year 2050. The exploitation of fossil energies to scale eventually has its term thus heralding the end of the post-modern industrial age.
Since global economies are desperately turned to crafting the steps of the future , Viale suggests that the development of high technology that has already accustomed people to even more safety and more comfort, will play an even more crucial role with respect to integrated informational systems within the home.
Viale states, "Month after month, the level of comfort and security becomes the top criteria for our clients. At the same time, we kept seeing that new build projects with integrated home automation features were higher sellers that the rest."
Since comfort and security criteria moved more buyers to invest, Viale then decided to research this aspect further that surprisingly revealed certain indications that soon became the premise of the book.
According to Viale, "This trend certainly piqued my interest, so we did the research and what we found was amazing."
About Nicolas Viale
Nicolas Viale has held a dynamic presence in the real estate industry for the last 26 years both in France and abroad in Costa Rica- Central America. He has received numerous awards such as #1 Century 21 franchise for Central America (2004). He currently is the manager for Nice Properties New Build department and holds the largest new build showroom on the French Riviera. He has authored two previous books, Invest in Costa Rica - Fast, Easy Secure, and Acheter un Bien Immobilier Neuf, and recently was a speaker on new build properties at the 2014 France Show in London.
About Nice Properties
Nice Properties is the French Riviera's leading real estate group specializing in the sale of luxury villas, vacation homes, apartments, new build residential projects and commercial real estate. Offering the most effective professional multi-lingual network of real estate professionals with six agencies along the Cote d'Azur from Cannes to Beaulieu and two specialized departments for New Build and Commercial real estate. They provide an efficient and seamless platform for the best real estate opportunities and investments on the French Riviera along with a strategic marketing portfolio that covers both national and international markets. To find out more information please visit http://www.nice-properties.com.