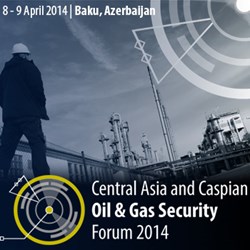 ...it's an IRN Summit
(PRWEB UK) 21 February 2014
The hotel is situated within one of the Flame tower, the country's largest sky scrapper and a construction synonymous with the Azerbaijan's soaring success.
It is thus the ideal forum for this unique and exclusive event, the first event of its kind to carefully analyse the particular security considerations for oil and gas operators in this region.
Speakers at this conference include Senior Security experts from companies such as MOL, Petro Kazakhstan, Saipem, Tengizchevroil, North Caspian Operating Company, Tethys Petroleum, ABB, GE Oil & Gas, Nabucco Gas Pipeline International, the OSCE, the UNDSS, the Ministry of Energy from Azerbaijan and the Ministry of Oil and Gas from Kazakhstan. This forum is sponsored by Avencom and Elta Systems ltd.
More information can be found on the website http://www.caoilgassecurity.com, while for regular updates follow IRN Oil and Gas on Twitter, @IRN_Security and join the LinkedIn Group 'Global Security Networking Platform'.