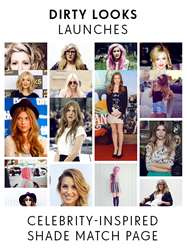 Finding the perfect set of hair extensions in the right hair shade has just got a whole lot easier!
(PRWEB) May 13, 2014
The hip hair extension stockist has invented a genius concept to help its customers decide on the perfect shade of hair extensions for them by giving them a whole celebrity-inspired page dedicated to its different shades of extensions.
Shade matcher is a new page filled with celebrities, bloggers and customers who resemble each of the shades available on Dirty Looks. The idea behind the page is that its customers are able to see what the shades look like when they are clipped in and how they appear in different lighting, before purchasing. They can also tell if the shade will match their own hair colour and if the tones are similar to their own highlights. Not only does this make the decision process of deciding which hair extensions are the right shade a whole LOT easier, it also saves the hassle of having to return the extensions and start all over again if they're the wrong shade.
Along with its new shade matcher page, Dirty Looks already offer an exclusive shade match service to its customers. So, if its customers are not sure what shade of hair extensions will match their own hair shade, then the Dirty Looks stylist team will provide a shade match for them; all they need to do is email a picture of their hair in natural outdoor lighting, and one of its stylists will recommend a shade of hair extensions for them. To contact one of the stylists, email info(at)dirtylooks(dot)com.
To visit the shade match page, click here. Or, for more information on the new shade match page or have any questions regarding either of Dirty Looks' shade services, please contact info(at)dirtylooks(dot)com. For more about Dirty Looks and the hair extensions/products it stocks, visit http://www.dirtylook.com. Alternatively, tweet the brand at @DTYLOOKS.