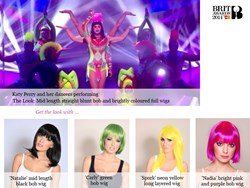 From Katy Perry and her dancers in neon wigs, to Lily Allen and her ombre ponytail, the Brit Awards hairstyle are easily achieved with a clever selection of hairpieces, wigs and hair extensions.
London (PRWEB UK) 20 February 2014
Last night's Brit Awards got everybody talking ,with peak moments attracting more than 30,000 tweets a minute on Twitter. But for some it is all about the fashion, from the dresses and outfits to the hair and makeup. Some of the stars stood out more than others, and now hair experts Wonderland Wigs show how easy it is to recreate some of the red carpet Brit Awards hairstyles.
Lily Allen Brits Hair 2014:
Lily wore her hair in a fabulous full volume orange and black ombre ponytail. The experts at Wonderland say that this look is simple to achieve with an effortless wraparound ombre ponytail.
Katy Perry Brits Hair 2014:
Katy Perry, as ever, didn't disappoint. Her gorgeous neat mid-length black bob with a on-trend blunt fringe looked fabulous. Her look is easy to achieve with a simply black bob wig, such as Wonderland's 'Natalie'.
Katy's dancers also stole the show, wearing striking neon yellow, pink and green bob wigs and Mohicans, they sent the Twitter-sphere to a frenzy with their brightly coloured routine! Getting the look is easy with any one of a number of coloured wigs; choose from Carly, Star, Nadia or Spork for Wonderland's top picks.
Beyonce Brits Hair 2014
Beyonce's Brits performance was a Brits highlight, and so was her hair. She went for full volume soft tumbling curls. This look can be easily achieved with simply a one-piece remy human hair extension.
Ellie Goulding Brits Hair 2014
Ellie was without a doubt this years' 'golden girl' of the Brits. She looked fabulous on the red carpet with a gorgeous side braid, and then changed her look for her acceptance speech and performance. Getting Ellie's look is simple, for her red carpet braid simply pop in one of an effortless clip in plait hairpiece and for her big hair style, simply slip on a hugely popular full volume layered/flicked 3/4 or half wig.
______________________
Wonderland Wigs is a leading brand and retailer or hairpiece, hair extensions, full and half wigs. All available to buy online via their website. For all enquiries please contact Sam McClements.