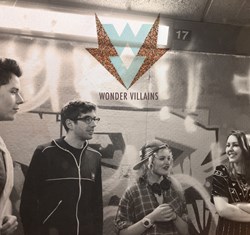 "What better to cheer one's heart than a spectacular pop song lionising football's diminutive wizard Gianfranco Zola. The Wonder Villains have the purest hearts in pop. (Q Magazine)
(PRWEB UK) 21 February 2014
The band - brother and sister Kieran and Eimear Coyle, Cheylene Murphy and Ryan McGroarty - have established a firm friendship, a large fan-base, have already toured the UK and have played in The USA & Morocco, bringing their energetic, fresh sound to both new listeners and old fans. Previous singles Zola, Ferrari and TV were played nationally on BBC Radio 1, Radio 2 and XFM – to name a few, and they already have a NIMA award under their belts. The brilliant thing about this band is that they don't sing about obscure subjects – they sing about what they know. Some songs talk about school, football and TV – because that was what they knew at the time – and others mention moving away from home, being hungover and dying your hair. As they put it: "It's the story of the last five years of our lives."
They have been compared to another famous band from Derry – The Undertones, and incidentally the drummer Kieran landed the role of the Undertones drummer in the recent BAFTA nominated movie about the Belfast record label 'Good Vibrations', and the others all played the part of extras.
The Wonder Villains are certainly not shy of experience, they opened the headline stage at the 'Peace One Day' festival, have played at BBC Radio One's Big Weekend and have supported many artists and bands who are familiar on the charts, such as:

They Might Be Giants
Superfood
General Fiasco
Ash
Electric Six
New Young Pony Club
The Undertones
The Human League,
Madness
Past supporters include Radio 1 DJ's Huw Stephens and Phil & Alice, 6 Music's Steve Lamacq, Jude Law, Amanda Burton, Tim Wheeler (who they have also supported), and last but not least, Gary Lightbody who said:
"What better to cheer one's heart than a spectacular pop song lionising football's diminutive wizard Gianfranco Zola. The Wonder Villains have the purest hearts in pop. Their youth plays a role in that but I remember being a particularly sullen teen, for instance - not for this band the huffs and bad poetry. They sing about what they know - TV shows, first loves and football - and in that respect they put me in mind of another great band from their hometown of Derry, The Undertones. And with lyrics like, "The keeper said to Zola, you're dead when this is over", they too have a tongue firmly wedged in their cheek. If they are this good in their teens, God only knows how good they'll get. It's frightening to wonder..." (Q Magazine)
Every song The Wonder Villains record has an invigorating crisp sound, incorporating intricate layers with distorted keyboard and lively vocals. The Wonder Villains new single 'Marshall' (Watch video here: http://youtu.be/A-OP2FxCB6c) depicts looking back at the recent past with rose-tinted shades – everyone wants to remember the good times. This will be released March 24th, with their debut album 'Rocky' due for release June 23rd 2014. You can listen to their music here:
https://soundcloud.com/nodancing/wonder-villains-blonde-radio
https://soundcloud.com/nodancing/wonder-villains-tv-2
For further information contact Quite Great Music Marketing.