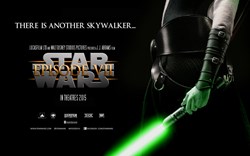 Star Wars Episode VII is slated to be the biggest movie to watch out for in 2015.
(PRWEB) February 21, 2014
Star Wars Episode VII is slated to be the biggest movie to watch out for in 2015, according to talent resource website Explore Talent. JJ Abrams is set to direct the film and it will be released under Lucasfilm/Walt Disney Pictures. It is said to be the biggest sequel in the recent years as Disney had recently acquired Lucasfilm and the rights to the Star Wars franchise.
Episode VII is set to start filming in May 2014 with talks about original cast members Harrison Ford, Mark Hamill and Carrie Fisher making appearances in the movie. Star Wars will not be the only movie franchise getting a sequel in 2015. Finishing second on the top 10 list is the last installment to The Hunger Games series, Mockingjay Part 2 which is set to be released in November 2015.
There are reports that the late Philip Seymour Hoffman who played Gamemaker Plutarch Heavensbee will be digitally recreated in scenes that were not completed before the actor's untimely death. Another sequel forecasted to make a big hit in the box office is The Avengers: Age of Ultron. Its first installment The Avengers has already been recorded as the third highest grossing movies of all time, falling behind James Cameron's Avatar and Titanic.
James Bond will also be making a comeback in November 2015 with Daniel Craig reprising his role as the Britain's well-loved fictional spy. Sam Mendes has been announced to direct the film following the success of Skyfall. Fast & Furious 7 lands fifth in the list of movies to watch in 2015. FF7 star Vin Diesel was the first to announce the final date on his Facebook page along with a photo of his last scene with co-star Paul Walker.
Despicable Me's little yellow men lands the sixth spot in the list as they get their own full-length feature in the movie spinoff The Minions set to be released in July 2015. Landing the seventh spot is the most awaited romantic film of 2015, Fifty Shades of Grey. After much buzz with the cast members, Melanie Griffith's daughter Dakota Johnson was cast to play the protagonist Anastasia Steele.
The reboot of the Jurassic Park series, Jurassic World, is set to be released in June 2015. This reboot has kept many wondering how this movie will fare against its other sequels. Falling closely behind at number nine is another Marvel and Walt Disney collaboration, Ant-Man. Rounding out the top 10 movies is also a Disney production, Tomorrowland.
This enthusiasm in the movie industry was cited by Explore Talent as a positive change in movie trends that could positively affect employment of aspiring actors. Being the leading talent resource website on the Internet, Explore Talent aims to encourage their members and other aspiring actors to chase dreams in acting, modeling and other performing arts. By means of tips and related articles, Explore Talent offers help to aspiring actors in scoring acting jobs and modeling jobs.
Since its debut in 2003, ExploreTalent has become the Internet's largest resource for actors, models, musicians, dancers, and production crew. Explore Talent's proprietary cast match technology is the most advanced entertainment-based technology of its kind. It matches a talent's attributes against tens of thousands of job postings every day.
Explore Talent's unique technology sends casting email alerts and posts auditions and jobs directly on talents' profiles, saving members hours of time from tedious searching.
Explore Talent has proven to be the best possible destination for talent to find modeling and acting auditions with well over 7.9 million members and over 60,000 auditions, castings, and production jobs listed - 40 times more postings and open casting calls than any other site.
The site's popularity is based on the fact that there are many ways for talents to network, make friends and connect with other industry players, participate in a wide variety of contests and earn prizes for being active on the site. The online community has been responsible for new collaborations and business ventures in entertainment because of opportunities for individuals to network and chat with each other. Furthermore, the Explore Talent site features celebrity videos, exclusive interviews with actors, actresses, and musicians, such as Akon and T-Pain.
For more movie audition tips and the latest audition updates, visit http://www.ExploreTalent.com.