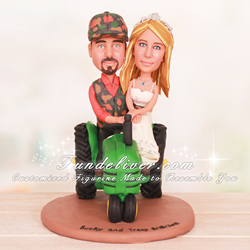 (PRWEB) February 21, 2014
Recently, UniqueWeddingCakeToppers.com, a long-time provider of funny toppers, has released its brand new unique cake topper collection. According to the CEO of the company, the most unusual items in the new range are rustic wedding cake toppers.
UniqueWeddingCakeToppers.com is one of the largest companies that offers special toppers at acceptable low prices. Its new cake toppers cover a wide range of choices, including tattoo cake toppers, Indian cake toppers, wedding cake toppers with child and so on. Unlimited adjustment requests are offered for all orders.
What's more, the company's quality cake toppers have a great market performance; a lot of them have greatly stimulated the company's business growth in the past few years. Its experienced workers will help clients do the whole image planning. Those who have any questions can feel free to contact its online staffs. It has someone on hand to serve worldwide customers around the clock.
"We are happy to unveil our new products. I think they will make a lot of new and old clients happy. You know, our cake toppers are always among our most popular items in the international market. In addition, all of the new designs are offered at low rates," the CEO states.
About UniqueWeddingCakeToppers.com
UniqueWeddingCakeToppers.com is a famous online supplier of vivid cake toppers for weddings, birthday parties, going away parties and many other events. With an aim of making the events more interesting and memorable, the company often offers great savings on its special products. At its online store, customer satisfaction is among the top priorities.
More details about its funny items can be found at http://www.uniqueweddingcaketoppers.com/.