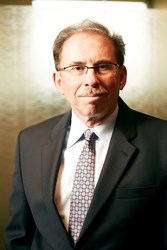 This is a tremendous honor, and to be recognized alongside such a distinguished group of lawyers is a highlight of my career.
Southfield, MI (PRWEB) February 20, 2014
As an advocate, counselor, and valued member of Sommers Schwartz's employment law and business litigation practice, Daniel Swanson is committed to achieving the most favorable, most just outcomes for his clients, as well as helping to improve the community in which we live. These accomplishments have earned recognition as a Michigan Lawyers Weekly "Leader in the Law" for 2014.
While Mr. Swanson primarily represents employees, he also represents employers, which is a rarity in the practice today, and a testament to the zealous advocacy he provides regardless of where the parties sit in the courtroom. The matters he handles involve employment discrimination, breach of employment contracts, Family & Medical Leave Act violations, executive employment agreements, sexual harassment, whistleblower and retaliation claims, and wrongful termination.
Mr. Swanson has also held important elected positions with the State Bar of Michigan Labor & Employment Section and Labor & Employment Council, the Professionalism Advisory Committee at Thomas M. Cooley Law School, and the Executive Board of the Michigan Association for Justice. Outside of the legal profession, Mr. Swanson has taken a quiet pledge to improve his community, and he was recently elected to serve as the Chairman of the board of directors for Cass Community Social Services, a Detroit-area non-profit dedicated to making a profound difference in the lives of diverse populations by providing for affordable housing, promoting self-reliance, and encouraging community improvement.
According to Michigan Lawyers Weekly's selection criteria, "The 2014 Leaders are attorneys who are changing the law, expanding access to justice and improving the profession and their communities. They are the lawyers in Michigan setting the example for other lawyers. The Class of 2014 represents a broad spectrum of practice areas and comes from across the state."
"This is a tremendous honor," says Mr. Swanson, " and to be recognized alongside such a distinguished group of lawyers is a highlight of my career."
###
Sommers Schwartz, P.C., a law firm located in Southfield, Michigan, represents individuals in Michigan and across the country who have been harmed as a result of medical errors, defective products, loss of employment, and other forms of negligence or intentional injury, as well as businesses involved in complex litigation matters that jeopardize their existence. Additional information about Sommers Schwartz can be found on its website: http://www.sommerspc.com.