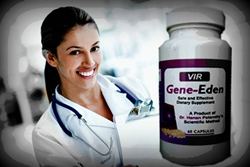 We recommend that individuals infected with hepatitis B ask their doctors about Gene-Eden-VIR. This natural antiviral was proven to reduce HBV symptoms in a post-marketing clinical study that followed FDA guidelines. – Mike Evans, polyDNA
Rochester, NY (PRWEB) February 27, 2014
More than one million Americans are infected with the hepatitis B virus (HBV). A chronic, long-term infection with HBV may lead to serious liver disease, or liver cancer, and death (1). Therefore, U.S. Preventive Services Task Force urges at risk individuals to get tested for HBV infection. The test includes drawing blood, and then testing for the presence of the virus. polyDNA recommends that at risk individuals, and especially those who test positive for HBV, talk to their doctor about Gene-Eden-VIR. This natural product was clinically proven to reduce symptoms of HBV infection in a study that followed FDA guidelines.
"Based on a review of existing evidence, the task force concluded the following people should be screened for hepatitis B (1)": Those considered at risk include: "Anyone born in countries or regions with a high rate of hepatitis B infection, including Africa, Southeast Asia, the Middle East, Eastern Europe and the northern countries in South America, People born in the United States who were not vaccinated against hepatitis B in infancy whose parents were born in areas with a high rate of hepatitis B infection, those who are HIV-positive, IV drug users, gay and bisexual men, people with a weak immune system, and those undergoing treatment for kidney failure (1)."
Dr. Douglas Owens said, "evidence shows we can catch the disease early in many people who are already infected by screening for hepatitis B virus infection in persons at high risk for infection (1)." However, even when caught early, those infected with HBV face incredible difficulties. Consider for instance, that "Patients with chronic hepatitis B require lifelong monitoring and are usually managed in secondary care by specialist team." (See NursingTimes.net, from February 7, 2014) (2).
"In 2009, 3,374 cases of acute Hepatitis B in the United States were reported to CDC; the overall incidence of reported acute Hepatitis B was 1.5 per 100,000 population, the lowest ever recorded. However, because many HBV infections are either asymptomatic or never reported, the actual number of new infections is estimated to be approximately tenfold higher. In 2009, an estimated 38,000 persons in the United States were newly infected with HBV. Rates are highest among adults, particularly males aged 25-44 years." (See the CDC's website on HBV, last updated on January 31, 2012) (3).
"We recommend that individuals infected with hepatitis B ask their doctors about Gene-Eden-VIR. This natural antiviral was proven to reduce HBV symptoms in a post-marketing clinical study that followed FDA guidelines." – Mike Evans, polyDNA
A study published on August 12, 2013 in the peer reviewed, medical journal Pharmacology & Pharmacy, in a special edition on Advances in Antiviral Drugs, showed that Gene-Eden-VIR reduced HBV symptoms (4).
Study authors wrote that, "Individuals infected with the Hepatitis B virus…reported a safe decrease in their symptoms following treatment with Gene-Eden-VIR (4)." The study authors also wrote that, "We observed a statistically significant decrease in the severity, duration, and frequency of symptoms (4)."
To learn more about Gene-Eden-VIR, and HBV, visit http://gene-eden-kill-virus.com/hepatitis-B-Virus.php. All orders of Gene-Eden-VIR are completely confidential, and no information is shared or sold to any third party. Privacy is assured.
References:
(1) Hepatitis B Screening Proposed for All High-Risk Adults. Published on February 11, 2014.
http://www.medicinenet.com/script/main/art.asp?articlekey=176678
(2) A nurse-led community hepatitis B clinic. Published on February 7, 2014.
http://www.nursingtimes.net/nursing-practice/clinical-zones/infection-control/a-nurse-led-community-hepatitis-b-clinic/5067782.article
(3) CDC - Hepatitis B Information for Health Professionals. Last updated on January 31, 2012.
http://www.cdc.gov/hepatitis/HBV/HBVfaq.htm#overview
(4) Gene-Eden-VIR Is Antiviral: Results of a Post Marketing Clinical Study. Published August 12, 2013.
http://gene-eden-kill-virus.com/PP_Gene-Eden-VIR-is-Antiviral.pdf
polyDNA is a biotechnology company that develops dietary supplements using the unique scientific method developed by Dr. Hanan Polansky, which is based on Computer Intuition.
In addition to his unique scientific method, Dr. Polansky published the highly acclaimed scientific discovery, called Microcompetition with Foreign DNA. The discovery explains how foreign DNA fragments, and specifically, DNA of latent viruses, cause most major diseases.