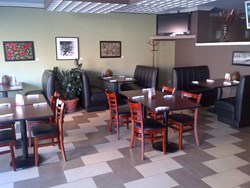 The quick ship booths are a wise investment and restaurant owners find that they add a lot of value.
Oakville, ON (PRWEB) February 20, 2014
Canada's leading restaurant furniture manufacturer and distributor, Restaurant Furniture Canada recently helped Nino Panino Pizzeria in Oakville, Ontario enhance its interior décor with new commercial chairs, table tops, bases and restaurant booths.
Nino Panino Pizzeria is located in Oakville, on the southwestern shore of Lake Ontario. The cooks of Nino Panino take pride in their Italian cuisine choosing only the freshest ingredients with their focus on quality and authenticity. Their menu features some of the finest freshest products and ingredients around. Their open kitchen concept restaurant is designed to give our guests a fun, dynamic dining experience inviting our guest to easily interact with their cooks and adding a personalized eating experience. They also have an abundance of wonderful salads and antipasti.
"The owner contacted Restaurant Furniture Canada for new commercial chairs, restaurant booths and table tops because of their reputation for high quality at competitive prices," salesperson Chris explained. "For chairs, he decided to go with Restaurant Furniture Canada's Wood Ladder Back Chair and in mahogany finish and padded black vinyl seats."
Restaurant Furniture Canada's Ladder Back Wood Chair is currently on sale for $69. A matching bar stool is also available and sells for $85. Customers can choose from 6 different finishes or have a custom finish made for an additional charge. Customers also have the choice of a solid wood seat or an American made padded seat made of vinyl or other fabric which can be custom upholstered. Like many of Restaurant Furniture Canada's wood furniture, the Ladder Back Wood Chairs and bar stools are made in the USA from wood responsibly harvested in the Midwest.
"The Ladder Back Wood Chair was just what the owner was looking for," Chris said. "The Ladder Back Wood Chair is North America's most popular commercial chairs. They are comfortable and functional, with the long-lasting durability and are reputed for their fine craftsmanship."
The owner also bought Restaurant Furniture Canada's quick ship 6 Channel Booths which are also made in the USA. Prices for the quick ship booths start at $270 and can be delivered in 7-14 days. "Restaurant Furniture Canada has an excellent reputation for making high quality booths," said Chris. "The quick ship booths are a wise investment and restaurant owners find that they add a lot of value."
For tables he bought reversible mahogany and black table tops with black T-molding edge. The reversible table tops also come in oak and walnut with brown T-molding edge. Prices start at as low as $35. He also bought round table bases which start at only $36. "The reversible table tops are very versatile and affordable and they look great," remarked Chris. "They are one of our best selling items."
To browse Restaurant Furniture Canada's full selection of chairs, barstools, table tops, table bases, booths and patio furniture, visit http://www.restaurant-furniture.ca/ or talk to a customer service representative at (888) 998-4222 for answers to all your questions on restaurant furniture.
Nino Panino Pizzeria is located at 438 Kerr St. in Oakville, ON. They can be contacted at: (905) 338-9393.