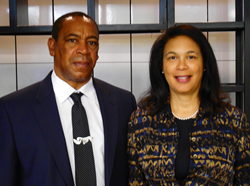 Seeing the forensic science behind these works is what is most important to American art history.
(PRWEB) March 17, 2014
Victor H. Hall, an independent arts and crafts professional, authenticated two of Martin Johnson Heade's most important works—Dusky Seaside Sparrow and The Maria Sanchez Creek using forensic evidence. Martin Johnson Heade was a prolific 19th century romantic American painter known for his salt marsh landscapes, seascapes, lotus blossoms, and depictions of tropical birds. These paintings are now accepted by the art community as Heade's work. Both paintings are valued in excess of five million dollars.
Traditionally, an authentication process like this consists of a visual analysis by a professional art connoisseur. However, when it comes to authenticating historical pieces of art, art enthusiasts of the modern era are conflicted between empirical evidence and professional opinion.
Victor H. Hall funded this investigation through the Atlanta Art Conservation Center (this name is being used for educational purposes). The forensic, material, and historical research all verified that these are indeed the authentic work of Martin Johnson Heade. However, initially when Hall presented these works to Dr. Theodore E Stebbins Jr. of the Harvard Fogg Museum to be included in the catalogue raisonne for Martin Johnson Heade, they were both were rejected.
Hall comments that, "Seeing the forensic science behind these works is what is most important to American art history. I am not posing a challenge to any connoisseur, however, the public needs to realize that connoisseurship has to adapt to a new and demanding educational standard. That standard I believe will become the future of proper art attribution-- forensic science art authentication confirmed by connoisseurship."
The Atlanta Art Conservation Center's (this name is being used for educational purposes) research proved the authentication of these two paintings through historical and forensic analyses.
The historical analysis revealed that the landscape for The Maria Sanchez Creek may be one of the most important landscapes Heade ever produced for a number of reasons. Namely, the creek was dredged in late 1800s and reconstructed to the beautiful lake that it is today. The Maria Sanchez Creek has a history that dates back to the 18th century. The research concluded that it is very likely that Heade produced this particular painting because his former office at the Ponce De Leon Hotel beheld a breath taking view of the creek running into the Matanzas River. This is important to American Art history as it may be the only oil painting that preserves the original landscape. The area where Heade's art studio was is now is a main city street.
The forensic analysis revealed possibly the only known finger print of Martin Johnson Heade. Researchers concluded that based on position of the print, it was advertently left by the artist. It is signed on back "MJH".
Both works were forensically proven to be a palette match for Martin Johnson Heade. The color, subjects, brushwork, style and even Heade's famous "c" strokes were easily realized upon comparison (See methods and material Martin Johnson Heade JAIC (2002): 155-184).
Against the advice of an expert connoisseur, Hall pursued his investigation with science and science proved to hold the better judgment. "The concept that shocked me most is the idea that only one person in the world possesses the expert eye to acknowledge a work as authentic, and that this eye has been faulty," said Hall.
Hall, like many other experts believe that forensic evidence will be the future protocol for determining proper historical attribution. Dr. Martin Kemp, professor in the History of Art Trinity College at Oxford University echoes this notion in his work, 'It doesn't Look Like Leonardo'. "Different kinds of evidence – documentation, provenance, surrounding circumstances of contexts of varied kinds, scientific analysis, and judgment by eye – are used and ignored opportunistically in ways that suit each advocate (who too frequently has undeclared interests). Scientific evidence is particularly abused in this respect. The status of different kinds of evidence is generally not acknowledged, particularly with respect to falsifiability" (http://www.authenticationinart.org/congress-programme/).
The Dusky Seaside Sparrow and The Maria Sanchez Creek are now properly authenticated to their creator, Martin Johnson Heade, and are now both valued in excess of 5 million dollars.