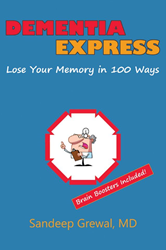 ...everyone is afraid of dementia...
Rock Hill, SC (PRWEB) February 27, 2014
Dementia, what an unpleasant feeling that comes to everyone. It sounds even worse than death!
Everyone can prepare for death in advance. Donate, Be kind to people, Take care of older folks, Be kind to animals, Don't steal, Don't kill, Don't drink and get drunk, Don't cheat, Asking for forgiveness, Pray, Be a good person. Because the fear that one may die one day and go to bad part of the universe alone (like the opposite of heaven).
Similarly, everyone is afraid of dementia, looking at Grandma's dementia, everyone gets the picture. She would repetitively ask questions, forget peoples name, forget her own family, forget to eat, and forget to swallow food even if it is in her mouth. Doctors say nothing can be done about it, it will only get worse. My God, it will get worse!! How worse can it get than not remembering one's own daughter or son or spouse hours on a daily basic.
Afraid that we are going to get dementia 20 years after, we start doing crossword puzzles as her daily practice! We buy all the available brain exercise books on puzzles, we buy expensive long-term care insurance, we go to the doctors, we swallow pills after pills, take all vitamins and supplements. Is it enough to prevent this dreadful disease?
What If It Is Not Enough!!!
Dr. Sandeep Grewal, an intelligent, common sense author of the "Dementia Express; Lose Your Memory in 100 Ways"
"This book is full of bad advice and our brain pays more attention to bad advice. Good advice usually is boring and does not command attention. But once the book captures attention, they will be all ready to soak in with brain boosters to improve memory and brain fitness." Said Dr. Grewal.
Dr. Grewal is the award winner of Health Care Innovation by Charlotte Business journal in 2012 and he is the winner of Forty under 40 in 2013. Vitals also name him as "Top 10 Doc" in 2013.
He talks in his book Dementia Express how we lose our memory in 100 ways and how we are going to rescue it. What has been his experience with his patients, who go through this disease in their surrounding and how he teaches them to safeguard themselves from this dreadful disease?
Here are a few topics he can share with everyone:
Everyday basics to keep your brain sharp and fit
What is the brain's fountain of youth to keep your brain young
How you could be negatively affecting your brains fitness
This Awarding Winning Health Innovator has written this book in disguise of bad advice, making sticky and fun.
This award winning doctor will entertain, with his cheerful advice, to an audience and they can learn to bullet proof themselves from senile brain too.
He has been on more than twenty radio shows and many are syndicated nationwide show.
CREDENTIALS: Dr. Sandeep Grewal and Dr. Myo Nwe are the founders of Ace Medical Group, the inventors of the SlimPlate System and its related mobile apps. Dr. Nwe is a diplomate of the American Board of Obesity Medicine and Internal Medicine. Dr. Grewal a diplomate of the American Board of International Medicine. He has been named one of Charlotte Business Journal's "Forty Under 40", received the magazine's 2012 "Innovation in Health Care" award and Vitals "Top 10 Doctor" 2013 award.
AVAILABILITY: North and South Carolina, nationwide by arrangement and via telephone; often available last-minute.
CONTACT: Dr. Sandeep Grewal, (803) 524- 3740 (SC); doctor(at)acemedicalgroup(dot)org, http://www.dementiaexpress.com