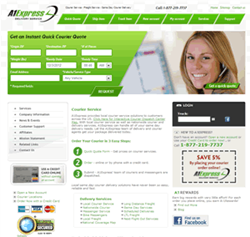 Atlanta, GA (PRWEB) February 21, 2014
A-1 Express, a recognized leader in same-day delivery, messenger and transportation services, announces the relocation of it's corporate headquarters to downtown Atlanta. The announcement comes in an effort to inform its' customers of the new location, expand its' customer base and increase sales growth. A-1 Express pursues to be the best choice in same-day courier solutions throughout the US.
A-1 Express has moved its' nationwide corporate office to 1450 West Peachtree Street within the downtown Atlanta area. This new location is highly visible and accessible its' clients, as well as it's drivers. A-1 Express is within a closer proximity to more effectively meet the same-day delivery needs for a variety of its' long-term client relationships, especially law firms and government institutions.
Whether it is an individual or large corporation, A-1 Express will continue to offer the highest level of same-day delivery solutions for its' customers nationwide. A-1 Express has the ability to offer a wide range of courier services, including same-day delivery, nationwide courier services, same-day bike messenger service, multiple location courier services, mail route logistic solutions, long-distance freight same-day delivery, straight truck delivery services, payroll deliveries, less-than-truckload shipping and more.
A-1 Express performs routing optimization and has the logistical expertise to create a cost-effective delivery solution on any scale. The Atlanta Courier is also available 24/7 for all of its' clients to answer any questions or make any service adjustments. A-1 Express can perform scheduled and on-demand same-day deliveries nationwide as well.
A-1 Express is a premier same-day courier service, offering transportation and distribution services. From small packages to palletized freight, A-1 Express delivers fast! As a leader in the courier industry, their goal is to perform optimal courier logistic solutions and superior customer service every time. The courier provides same-day delivery successfully for over 1,500 clients, including Fortune 500 companies nationwide.