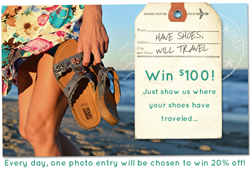 Waltham, MA (PRWEB) February 22, 2014
PlanetShoes.com, an online shoe and accessories retailer from Waltham, MA, is asking for photo submissions from customers showing where they've traveled in their shoes. By uploading a photo to Facebook within the "Have Shoes, Will Travel" tab, customers are entered to win a $100 gift card for new shoes. On top of this grand prize, PlanetShoes will be picking a winner each day to win a 20% off coupon to the site. This Facebook contest will run from February 14th, 2014 to February 28th, 2014.
With a huge selection of fashion-forward comfort shoes, PlanetShoes is the place to find great shoes for travel. New York Times travel writer Stephanie Rosenbloom has mentioned PlanetShoes for carrying Fly London, a sturdy, comfortable, stylish footwear brand perfect for women on-the-go. With other comfort-focused brands like Clarks, Born, Kalso Earth Shoe, El Naturalista and Dansko shoes, PlanetShoes provides customers with amazing footwear for the longest and best of worldwide trips. This photo contest encourages customers to see the world and to look and feel good while doing so.
About PlanetShoes
PlanetShoes is an innovative lifestyle retailer committed to helping people live healthier, more eco-friendly lives. The first in the industry to offer a CarbonFree Plus shipping alternative, PlanetShoes specializes in products that blend function, style, comfort and value with eco-ethics. The company proudly offers a wide selection of shoes, bags and other accessories from over 190 brands. For more information, visit http://www.planetshoes.com.