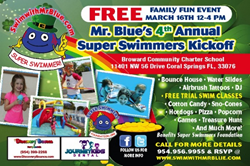 "There is no greater feeling of peace for a parent to know that your twin daughters who are not yet three years old, would be perfectly capable of swimming to the edge of the pool if they were to ever fall in." Brody H.
Coral Springs, FL (PRWEB) March 04, 2014
Looking for a family friendly event that includes all the perks for kids – bounce houses, water slides, face painting, food, treasure hunts, free trial swim classes and more – and also gives back to the community? If so, look no further than Swim With Mr. Blue's 4th Annual Super Swimmers Kickoff coming to Coral Springs on March 16th from 12:00 to 4:00 p.m. Admission to the event is at no cost, and all money raised through food or special activity sales will benefit the Super Swimmers Foundation. This incredible foundation has one mission, which is to give back to the community in the form of teaching children with Autism how to swim. One hundred percent of donations and money raised are used to fund swimming lesson scholarships for children with Autism.
Drowning is the number one cause of death for Autistic children, as they are often drawn to the water. It is crucial for children living in South Florida, whether they have Autism or not, to learn how to swim and be confident in the water. This is where Swim With Mr. Blue comes in! Swim With Mr. Blue is South Florida's swimming lesson leader. Ms. Julie, Swim With Mr. Blue's founder, has created a unique swim method that teaches babies, children and even adults how to swim in just 5 days! The Swim With Mr. Blue program has been credited with saving the lives of numerous children who were able to swim to safety after unexpectedly falling into a body of water. Julie's mission is to share with others the fact that drowning is 100 percent preventable and she works tirelessly to teach her unique program to others "until the whole world swims."
"This fun event is open to all families, and any money we raise funds scholarships for kids with Autism whose parents cannot afford swim lessons," Julie shares. "It is a blessing to give back and to see children with Autism not only learn how to swim, but to excel at swimming and truly enjoy it. There are no boundaries here at Swim With Mr. Blue and everyone starts at the same level in the program. Those with Autism are put into groups with children who do not have Autism, and parents continuously thank us at the end for treating their children like everyone else and also instilling in them life-saving tools regarding water safety."
Learn more about Swim With Mr. Blue, raise money for swim lessons for children with Autism, and enjoy a complimentary, fun day out with the family! With great music, food, activities for the children, trial swim classes at no cost, games and more, Mr. Blue's 4th Annual Super Swimmers Kickoff is an afternoon event not to be missed. Located at the Broward Community Charter School at 11401 NW 56th Drive in Coral Springs, please visit http://www.SwimWithMrBlue.com to RSVP.
Learn more about Ms. Julie and Swim With Mr. Blue by visiting http://www.SwimWithMrBlue.com today or calling 954-956-9955.