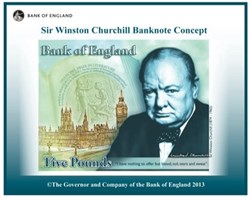 You either embrace change, or you get churned up in the wake that develops behind it. We want to be riding the crest of the wave when the new notes are introduced and post 2016, look forward to welcoming our first paper note trader in future.
London, UK (PRWEB UK) 21 February 2014
More than 20 countries around the world have already adopted polymer banknotes. In 2016, the Bank of England will follow suit, introducing the UK's first £5 plastic banknote bearing the face of Winston Churchill. There is excitement and controversy surrounding the planned rollout, but Hallmark Coins is more excited about a possible new numismatic trading market opening up.
Elliot Basker, Online Business Manager, Hallmark Coins, says, "Hallmark Coins have been successfully assisting numismatic buyers and sellers of rare collectable gold and silver coins since 2009 to fulfill their realisation of getting the asking price they want, and the coins they desire.
"With the introduction of the new plastic banknotes in 2016 and beyond, we predict a new market opening up, centred on the buying and selling of traditional cotton paper notes. As always, Hallmark Coins are looking forward to lending their expertise to facilitate the trading process."
With such a radical change to the composition and size of the new £5 note – and the soon to follow £10 note bearing the likeness of Jane Austin – these plastic (polymer) banknotes are meeting some skepticism. Few believe the notes to be too slippery, while others say that they look fake. However of the 13,000 people polled in a survey around the UK, 87% said they are in favour of the new notes.
Although costing more to produce initially, long term the new notes are more cost-effective and durable, lasting on average 2.5 times longer than their paper counterparts. In addition they are more secure from counterfeiting.