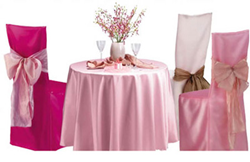 New York, NY (PRWEB) February 24, 2014
Table Cloth Factory is a premiere provider of luxurious table linens and accessories that are ideal for creating a beautifully designed space. Noticing the rise in ornate table decoration in the wedding industry, they are proud to announce their line of colors and styles that are ideal for wedding receptions and ceremonies. Whether consumers are decorating the space themselves or utilizing the assistance of a wedding planner, their table cloths are ideal for every budget, taste and design. In fact, they have many offerings that can't be found in stores. Their inventory is truly unique and was made this way based off of customer demand and preferences.
Linen tablecloths are traditionally used in a wedding setting simply because they create a professional look while still remaining affordable. Table Cloth Factory understands the importance of affordability and has ensured that their prices stay as low as possible regardless of which material chosen. Their selection includes round linen tablecloths, organza overlays, satin banquet tablecloths, and polyester tablecloths.
The décor at the wedding reception is a fantastic way to tie in the colors that the bride has chosen for her special day. Recognizing that this is a very common desire in the industry, the company is proud to offer a wide variety of colors that extend far beyond generic selections available in a local party store. Silver, turquoise, apple green and fuchsia are just a few of the fun selections that brides and planners will have to choose from.
Another element that is very important to consider when dealing with the wedding industry is that every little detail counts. From the tablecloth itself to the accessories around it, everything must be tied together to create the breathtaking overall look that every bride craves. This can often make or break the perception of the reception itself. The company has taken this into careful consideration and has made it easier than ever to create a coordinated look even if a consumer is without professional assistance. This is done through a wide range of options that include a linen tablecloth with complementing table runners, chair sashes, chair covers, linen napkins and more. All of these can be purchased through the Table Cloth Factory website.
Consumers who choose to shop in the big box stores for wedding reception décor may be markedly disappointed with the selection that's available. Not only do they often carry a limited inventory of colors, but they may not even have table coverings that fit the tables in the desired venue. The company is addressing this concern by not only offering a wide range of colors and styles, but also providing coverings for oddly shaped tables and tables with non-traditional dimensions. Custom options are also available.
And above all, Table Cloth Factory prides itself in offering a high quality selection at unbeatable prices. No matter what a consumer's budget may be, they can find exactly what they're looking for when shopping with this trusted name in the wedding planning industry.