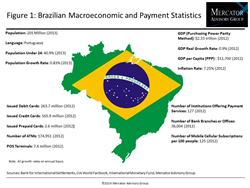 The Brazilian payments market has emerged as a leading player not only in the Latin American region but around the world.
Boston, MA (PRWEB) February 20, 2014
A member of the BRIC (Brazil, Russia, India, and China) countries, Brazil has long been recognized globally as a leading developing market. As the economy has grown and subsequently matured, so has its domestic payments market. This maturity and the country's significant market potential have made Brazil increasingly attractive to foreign investors.
The market's openness to competition (from both domestic and international players) as well as its relatively well-developed financial infrastructure makes Brazil arguably the most attractive developing payments market in the world, given the difficulties of operating in China and the lesser market development of India and Russia. As a result, there is little doubt that the Brazilian payments market will be ready for the limelight the country is expected to receive when it hosts major world athletic events later in 2014 and in 2016.
Mercator Advisory Group's latest Research Report, The Brazilian Payments Market: Ready for the Limelight, offers context for the Brazilian payments industry by providing historical and short-term forecasts across a number of payment segments like payment card use and growth and ATM deployment and transaction growth. The paper also identifies leading domestic and international players operating in the Brazilian payments market and describes recent influential regulations by national regulators.
"Soon the world's attention will turn to Brazil as the country prepares to host two of the world's premier athletic events, the 2014 FIFA World Cup and Rio 2016 Games, the XXXI Olympic Summer Games in August 2016 in Rio de Janeiro. While the press and public focus on these events, the maturity of the Brazilian payments system will go largely unnoticed except by the payments industry. The Brazilian payments market has emerged as a leading player not only in the Latin American region but around the world," comments Tristan Hugo-Webb, Associate Director, International Advisory Service at Mercator Advisory Group and author of the Research Report.
Highlights of the report include:

Overview of a broad range of payment segments in Brazil (e.g., payment cards and ATMs) with historical data and estimates for 2013
Examination of the potential market for mobile payments as well as e-commerce in Brazil
Review of leading domestic and foreign players operating in Brazil across payment industry segments, with market share
This report contains 25 pages and eight exhibits.
Companies mentioned in this report include: ABECS, Hipercard, Elo Participações, Cielo S.A., Rede, Visa Inc., MasterCard, CSU CardSystem, FIS, TSYS, Orbitall, Banco do Brazil, Itaú Unibanco, Caixa Econômica Federal, TecBan, Oki Electric Industry, Itautec, Pagtel, Oi Paggo, Telefonica, iZettle, SumUp, Vivo, Alibaba, and PagBrazil.
Members of Mercator Advisory Group's International Advisory Service have access to these reports as well as the upcoming research for the year ahead, presentations, analyst access, and other membership benefits.
For more information and media inquiries, please call Mercator Advisory Group's main line: (781) 419-1700.
For free industry news, opinions, research, company information and more visit us at http://www.PaymentsJournal.com.
Follow us on Twitter @ http://twitter.com/MercatorAdvisor.
About Mercator Advisory Group
Mercator Advisory Group is the leading independent research and advisory services firm exclusively focused on the payments and banking industries. We deliver pragmatic and timely research and advice designed to help our clients uncover the most lucrative opportunities to maximize revenue growth and contain costs. Our clients range from the world's largest payment issuers, acquirers, processors, merchants and associations to leading technology providers and investors. Mercator Advisory Group is also the publisher of the online payments and banking news and information portal PaymentsJournal.com.