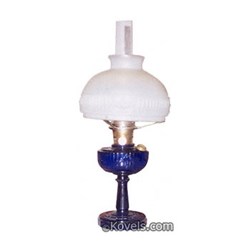 Cleveland, OH (PRWEB) February 20, 2014
The new year brings a newcomer to the Kovels.com Top 20 searches list. "Aladdin" debuts at No. 7. It's not the famous character from the Middle Eastern Folk tales collection, "One Thousand and One Nights, " also known as "The Arabian Nights." The Aladdin in Kovels.com Price Guide is a lamp company.
The Mantle Lamp Company was formed in Chicago in 1908 to sell an improved version of a German kerosene mantle burner. The first Aladdin lamp was made in 1909. In 1926, the owner bought a glass company to make glass lamps, chimneys and shades, and changed the name to Aladdin Industries. The company made table, hanging, bracket, and floor lamps for kerosene, and later, electric power. Aladdin kerosene lamp burners were made in the U.S. until 1963. Aladdin Industries sold the lamp division to a group of collectors in 1999, and the company name was finally changed to Aladdin Mantle Lamp Company.
Model numbers and the name Aladdin can be found on a lamp's wick raising knob. Collector favorites today are lamps with colored glass bases and original Aladdin lamp finials. A single finial can cost from $10 to $100, and a lamp from $35 to $500 or more.
During January 2014 antique enthusiasts were busy researching:
1. Occupied Japan
2. Stoves
3. Fenton
4. Bottles
5. Coca-Cola
6. Dinnerware
7. Aladdin
8. Wedgwood
9. McCoy
10. Bavaria
11. Capo-Di-Monte
12. Banks
13. Rosenthal
14. Cookie Jars
15. Watch
16. Wade
17. Lighters
18. Red Wing
19. Depression Glass
20. Hull
Collectors who search Kovels.com can learn more about identifying features, marks and prices. Kovels.com and "Kovels' Antiques and Collectibles Price Guide" list thousands of collectibles in hundreds of categories that are described, edited, priced and pictured.
Terry Kovel is America's foremost authority on antiques and collectibles. She is the well-known columnist and author of more than 100 books on antiques and collecting. With her daughter, Kim Kovel, she co-authors the best-selling annual "Kovels Antiques and Collectibles Price Guide." Both Terry and Kim are collectors. They will discuss antiques and collectibles topics with accredited media. Photographs are available. Contact pr(at)kovels(dot)com.
About Kovels.com
Kovels.com, created by Terry Kovel and Kim Kovel, provides collectors and researchers with up-to-date and accurate information on antiques and collectibles. Kovels' Antiques was founded in 1953 by Terry Kovel and her late husband, Ralph. Since then, Kovels' Antiques has published some of America's most popular books and articles about antiques, including the best-selling "Kovels' Antiques and Collectibles Price Guide," now in its 46th edition. The Kovels' website, online since 1998, offers 900,000 free prices and includes a free weekly email, "Kovels Komments." It give readers a bird's-eye view of the market through the latest news, auction reports, a Marks Dictionary, readers' questions with Kovels' answers and much more.
Contact Information:
Liz Lillis
216.752.2252