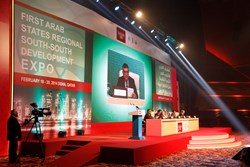 Doha (PRWEB) February 20, 2014
Arab and South perspectives help shape the new global development agenda.
Success in ending poverty hinges on conducive policy frameworks, training and resources.
Developing countries of the South are taking greater control of their development future as the world debates a new global development agenda that will shape the 21st century, concluded delegates to the "First Arab States Regional South-South Development Expo," which concluded today in the Qatari capital, Doha.
While countries of the South, including all those across the Arab region are rapidly developing, three elements are needed to ensure that South-South efforts to end poverty are successful and sustained: clearly formulated regional and national policies, effective institutional coordination capacities for experience exchange, and dedicated resources, including packaged knowledge, expertise, funding. This recognition has emerged as a concluding agreement at the end of three days of the Expo.
The Expo was the first ever such forum held at the regional level modelled after the Global South-South Development Expo, which has been convening annually, since 2008, to document successful development solutions from the global South and promote their replication and scaling up to meet common development challenges.
"We are proud to have hosted this landmark gathering," said HE Sheikh Mohammed bin Abdulrahman bin Jassim Al-Thani, Assistant Foreign Minister for International Cooperation Affairs, State of Qatar. "We see the great success of the Expo, only as a beginning of concerted follow-up efforts that will capitalize on this success and institutionalize South-South Cooperation in the Arab region. We reiterate our commitment to continue to support such an endeavour."
Practical focus: Solutions showcased, debated and transacted
The Expo focused on three thematic areas of priority to the region, but that are of global relevance as well, including youth and women's employment and decent work, energy efficiency and renewable energy, and water and food security. Held under the motto "Solutions to Action," the three days of the Expo included substantive deliberations; solution exhibitions; launches of cooperation-mapping and transaction-facilitating tools; and specialized solutions exchange forums.
"South-South Cooperation is not an alternative agenda to the MDGs or the new Sustainable Development Goals (SDGs) Agenda, currently under debate even though it can help us shape global development priorities" stresses H.E. Zsolt Hetesy, Vice-President of the United Nations General Assembly High-level Committee on South-South Cooperation. "Most importantly, South-South Cooperation adds a practical and vital tool to our global toolbox to proceed deliberately and effectively towards shaping our common development future."
More than 500 delegates from 45 countries examined and exchanged views on evidence-based development solutions, platforms and mechanisms in the Arab States region and other countries that were successfully tested in addressing development challenges. The "Solutions Exhibition" featured booths for 30 organizations and showcased over 40 solutions, while 9 "Solution Exchange Forums," presented over 60 well documented solutions from 20 countries, from the Arab region and beyond.
In addition to forums presenting solutions from the host country, Qatar, and from the private sector, the seven UN-facilitated forums included the International Fund for Agricultural Development (IFAD); the UN Economic and Social Commission for Western Asia (ESCWA); the International Labour Organization (ILO); United Nations Development Programme (UNDP), the United Nations Environment Programme (UNEP), the United Nations Industrial Development Organization (UNIDO) and the United Nations Entity for Gender Equality and the Empowerment of Women (UN-Women).
The forums examined and debated potentials of replication and scaling-up of successful experiences in such areas as, employment generation, supporting entrepreneurship and business development capacities for youth, women and other vulnerable groups; energy efficiency (through education, regulation and standards) and providing clean and renewable energy alternatives; water harvesting and enhanced irrigation systems to build resilience to climate change; enhanced agricultural productivity; maximizing green economy opportunities (green jobs) for youth and women; the use of cooperative, solidarity and apprenticeship schemes to enhance employment opportunities; and wastewater treatment for food security.
The Expo launched the "Tool for Mapping of South-South cooperation mechanisms and solutions in the Arab States Region," jointly produced by the Islamic Bank for Development, UNOSCC and UNDP. The publication version of the tool documented 40 solutions and 28 coordination mechanisms of successful South-South cooperation from across the region. Those solutions and mechanisms are also entered in an online version of the tool, which aims to grow into a comprehensive repository and hub of information gathering and an avenue to easy-to-use, real-time access to tried and tested South-South Cooperation solutions and mechanisms in oreder to facilitate future networking and exchange.
Additionally, the South-South Global Assets and Technology Exchange (SS-GATE) mobilize the participation of 67 private sector entities at the Expo and organized a "Matchmaking Space" to facilitate discussions and negotiations among participants, which managed to match 8 companies representing a range of sectors including food security, water, waste management, and clean energy. Negotiations and matchmaking continued over the three days and will be followed-up beyond.
The Expo also witnessed the launch of a large project employing South-South Cooperation modalities to strengthen Somalia's education and health care infrastructures, and improve the livelihood of thousands of displace, unemployed men, women and youth through skill development, entrepreneurial training and micro-grants. The project combines forces of the Government of Somalia with the UN Office for South-South Cooperation (UNOSSC) and the Organization of Islamic Cooepration.
South-South Cooperation for Development taking hold in the Arab region
The First Arab States Regional South-South Development Expo came as the fruit of a strategic partnership between the State of Qatar, UNOSSC and UNDP's Regional Bureau for Arab States.
"The dedication that we have seen over the three days of this Expo reminds us that the nations of the Arab region and the world can and must seek human progress as a common cause," said Mourad Wahba, Deputy Regional Director of the United Nations Development Programme-Regional Bureau for Arab States. "We thank the Government of Qatar for generously hosting this event as yet another sign of extraordinary commitment and leadership to development cooperation, across this region indeed beyond. We look forward to continued collaboration with Qatar to build on the solid foundations laid here in this Expo."
The Expo facilitated the building of many bridges of South-South Cooperation in several areas. It initiated bilateral partnerships and opened doors of assistance to solution providers to expand their operations to other areas of the Arab region. For example, the Small Scale Wastewater Treatment Plants project from Palestine has started collaboration discussions with organizations in Qatar and Jordan; the Egyptian Businesswomen Association and Afro-Arab Network for Women Empowerment offered to train women and youth entrepreneurs through their Training and Business Development Centre and Incubator. They announced that they will be holding a joint conference on South-South cooperation for Economic Empowerment for Women and Youth in April 2014.
Participating UN Resident Coordinators agreed to establish thematic working group to coordinate inter agency and joint work on South-South Cooperation, while representatives of regional UN entities agreed to set-up a regional mechanism for enhancing South-South Cooperation, including the facilitation of grants.
While many of the presented projects in the different areas generated some debate about feasibility of replication and scaling-up they only resulted in initial commitments during the sessions. Convening agencies committed to ensure follow up on these commitments and explore the possibilities of their further materialization into specific collaboration projects.
In his closing remarks, Yiping Zhou, Director of the United Nations Office for South-South Cooperation emphasized that "this pioneering Expo has provided extremely rich regional perspectives on South-South cooperation and how it can help achieve development results." He added "It is my task now, through my Expo report, to make this regional voice heard globally, not only conveying it to the UN Secretary General, but through him to the General Assembly deliberations on the Post-2015, Sustainable Development Goals (SDGs) Agenda, which will shape our futures over the next decades."
________________________________________
For further information, please contact:
The Secretariat of the First Arab States Regional South-South Development Expo
UNDP Regional Bureau for Arab States - Regional Centre in Cairo,
United Nations Office for South-South Cooperation - Arab States Division
CEDARE Building, 2 Hijaz Street, Roxy, Heliopolis, Cairo, Egypt
E-mail: ssc(dot)arabstates(at)undp(dot)org
Web site: http://doha.Southsouthexpo.org
Or
Noeman AlSayyad, Media Relations Coordinator for the Expo
Regional Communication Advisor, UNDP Regional Bureau for Arab States - Regional Centre in Cairo,
E-mail: noeman(dot)alsayyad(at)undp(dot)org
Mobile phone: +20 0181 1876